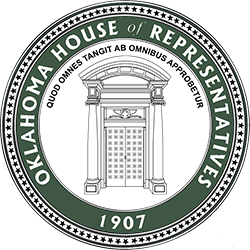 Property Reduction Program Provides Benefit to Department of Corrections
According to testimony provided to the Government Modernization Committee today, more than 3.1 million dollars has now been generated through a program of inventorying and selling underutilized state government properties.
Oklahoma's Capital Assets Administrator Dan Ross told committee members that much of the proceeds from the sales have been used to repair and maintain the roofs of three Department of Corrections facilities including the Oklahoma State Penitentiary at McAlester.
The program is part of state government's ongoing government modernization effort to identify and return the underutilized properties to the private sector.
Ross told committee members that taxpayers are experiencing added savings from not having to maintain the underutilized properties.
In all, as part of the state asset reduction program, more than 362,000 square feet of owned and leased space have been removed from state custody.
Additional benefit occurs as upon transfer to the private sector the liquidated properties become tax producers and benefit local school districts whereas prior to transfer they were tax exempt.
The real property hearing is one of a series by the House Government Modernization Committee as they seek to provide oversight to the various ongoing state government modernization and efficiency initiatives. 
Opposition to Fallin's Tax Hike Grows in Legislature
Opposition continues to grow in the State Capitol over Gov. Mary Fallin's proposed $1.7 billion sales tax expansion, with 13 legislators adding their names in opposition. 27 legislators are now publicly on the record against the Fallin sales tax hike.
In her State of the State address, Governor Fallin presented a plan that would tax 164 different categories of services provided by Oklahoma small businesses and entrepreneurs. By the governor's own estimate, this would result in a tax hike of more than $1.7 Billion.
Citing their fundamental disagreements with Gov. Fallin's proposed tax hike, the following conservative legislators pledged to do what they can to stop this tax increase from becoming law:
State Rep. John Bennett (R-Sallisaw)
State Rep. David Brumbaugh (R-Broken Arrow)
State Rep. Kevin Calvey (R-Oklahoma City)
State Rep. Bobby Cleveland (R-Slaughterville)
State Rep. George Faught (R-Muskogee)
State Rep. Kevin McDugle (R-Broken Arrow)
State Rep. Lewis Moore (R-Edmond)
State Rep. Mike Ritze (R-Broken Arrow)
State Rep. Chuck Strohm (R-Jenks)
NEW: State Rep. Rande Worthen (R-Lawton)
NEW: State Rep. Dustin Roberts (R-Durant)
NEW: State Rep. Scott McEachin (R-Tulsa)
NEW: State Rep. John Enns (R-Enid)
NEW: State Rep. Dale Derby (R- Owasso)
NEW: State Rep. Casey Murdock (R-Felt)
NEW: State Rep. Scooter Park (R-Devol)
NEW: State Rep. Jeff Coody (R-Grandfield)
State Sen. Mark Allen (R-Spiro)
State Sen. Nathan Dahm (R-Broken Arrow)
State Sen. James Leewright (R-Bristow)
State Sen. Marty Quinn (R-Claremore)
State Sen. Anthony Sykes (R-Moore)
NEW: State Sen. Micheal Bergstrom (R-Adair)
NEW: State Sen. Julie Daniels (R-Bartlesville)
NEW: State Sen. Bill Brown (R-Broken Arrow)
NEW: State Sen. Ralph Shortey (R-Oklahoma City)
NEW: State Sen. Joseph Silk (R-Broken Bow)
Bill increasing food security passes House unanimously
A bill aimed at alleviating childhood hunger passed Tuesday out of the Oklahoma House of Representatives with a vote of 95 to 0.
House Bill 1875 by state Reps. Eric Proctor and Jason Dunnington permits school districts to donate unused or unopened food to an on-campus nonprofit organization through an authorized representative or designee who is directly affiliated with the school as a teacher, counselor or PTA member. The food may be received, stored and redistributed at the school at any time, and school employees may assist in preparing and distributing the food as volunteers for the nonprofit organization.  
The legislation exempts from civil and criminal liability school districts and nonprofit organizations who receive a good-faith donation of food that is fit for human consumption at the time of the donation.
Proctor and Dunnington have partnered with the Regional Food Bank of Oklahoma in Oklahoma City and the Community Food Bank of Eastern Oklahoma in Tulsa to ensure as few students as possible go home hungry and without food.
The legislation now moves to the state Senate.
Superintendents Ask for Passage of HB1482 to Protect Children by Restoring Drug-Free School Zones
Superintendents are starting to join with state representatives to ask for passage of House Bill 1482, which would restore protections for children and the places where they gather, such as schools, daycares, and parks.
State Rep. Scott Biggs authored and State Rep. Tim Downing co-authored HB1482 by Rep. Scott Biggs, which passed the House Judiciary – Criminal Justice & Corrections Committee with a vote of 11-1 last week and is expected to be heard on the House floor this week.
The bill preserves the portion of state law that makes it a felony to possess drugs within 1,000 feet of a public or private school or public park or within the presence of a child under the age of 12. This crime could still be charged as a misdemeanor, by discretion, and the options of drug court and deferred or suspended sentences could still be utilized.  
SQ780 and the removal of drug-free school zones would become effective in July.
Downing explained that the U.S. and all 50 states have laws for drug-free school zones. 
Downing said superintendents were largely unaware that SQ780 repealed drug-free school zones. He said many also did not know that the language of children and schools was deliberately kept from the voters.
Martin said he finds this unconscionable and is asking other superintendents to examine the issue and support HB1482.
Education Gets $110 Million in Additional Lottery Money Under Budget Leaders' Bill
Legislative budget leaders have filed a bill projected to increase the Oklahoma Lottery's contribution to education by $110 million over the next five years.
House Bill 1837, by House Appropriations Chairwoman Leslie Osborn and Senate Appropriations Chairwoman Kim David, is designed to send more lottery revenue to education by letting the lottery offer larger payouts that improve lottery sales and ultimately send more money to public schools.
"Education gets more than $100 million in new lottery money if this legislation passes. This is by no means an end-all, be-all school funding solution, but it is an achievable way to get more money to schools even in a tough budget year," said Osborn, R-Mustang.
Osborn will present the bill today at 4:30 p.m. in the House Appropriations and Budget Committee in Room 206 at the Capitol.
Background: 
The Oklahoma Lottery has sent more than $750 million to education since it began in 2005, but its performance has been declining – particularly in comparison to other state lotteries – because of an ineffective profit requirement that would be replaced under HB 1837.
Oklahoma Lottery revenue to education peaked at $71.6 million in Fiscal Year 2008, but has declined since. If HB 1837 is not passed, the Oklahoma Lottery projects those declines will continue and that education will lose a combined $25 million in lottery funding over the next five years. 
To prevent that decline, HB 1837 makes the lottery more profitable and increases common education's lottery funding through three steps:
Guarantee at least $50 million in lottery revenue for education every year.

Send profits above $50 million to specific K-12 public school initiatives.

Improve sales and lottery revenue to education by ending the counterproductive mandate that 35 percent of profits go to education.
The Oklahoma Lottery projects specified K-12 public school initiatives would receive $85 million over the next five years if HB 1837 is enacted. The money would be used for initiatives in reading and science, technology, engineering and math (STEM).
HB 1837's $110 million boost to education comes from preventing the $25 million decline that is expected without the bill and sending the projected $85 million to reading and STEM programs.
The Oklahoma Lottery, because of its profit requirement, lags behind other state lotteries in per capita sales, coming in at $44 per capita. The national lottery sales average is $216 per capita.
Many states don't place percentage requirements on lottery revenues like Oklahoma does, which allows those lotteries to perform better and ultimately produce more funding for the governmental functions they support.
In 2007, North Carolina removed the profit requirement for its lottery and saw lottery funding to education rise by $318.7 million, or 101 percent, over the next nine years.
The Arkansas Lottery has no profit requirement and its per capita sales were $138 in 2015, compared to $44 in Oklahoma. Pennsylvania, Texas, and California have also removed lottery profit requirements and grown sales, allowing those lotteries to send more money to the governmental functions they support. 
Five Bills Pass Through House Judiciary- Criminal Justice & Corrections Committee
The second hearing for the 56th Legislature's House Judiciary – Criminal Justice & Corrections Committee took place Wednesday.
The committee, chaired by Rep. Scott Biggs, passed five pieces of legislation that are now eligible to be heard on the House Floor.
House Bill 1482, authored by Rep. Tim Downing, Rep. Mike Sanders, Rep. Leslie Osborn and Rep. Scott Biggs, is legislation that seeks to make it a felony to possess, sell or purchase illegal drugs 1,000 feet around a day care, public or private elementary or secondary school, public vocational school, public or private college or university, or other institution of higher education, church, recreation center or public park, including state parks, fairgrounds and recreation areas or in the presence of any child under twelve years of age. The bill passed committee by a vote of 11 to 1.
House Bill 2159, authored by Rep. Jadine Nollan, is legislation that would require the court clerk to notify the Oklahoma Tax Commission when a defendant fails to enter a plea or timely appear for arraignment. The Tax Commission would then cancel the current registration on any motor vehicle registered by the defendant and place a hold on any future registrations until such time as the defendant satisfies the court. The bill passed committee by a vote of 10 to 0.
House Bill 1468, authored by Rep. Carol Bush and Rep. Kevin McDugle, is legislation that extends the statute of limitations for certain crimes against children from 12 years after the crime to up until the victims 45th birthday. The bill passed committee by a vote of 10 to 0.
House Bill 1306, authored by Rep. Casey Murdock, is legislation that would require a sentence of life without parole or the death penalty for all first degree murder convictions where the victim is a police officer, corrections officer or corrections employee. The bill passed committee by a vote of 10 to 2.
House Bill 1326, authored by Rep. Casey Murdock, is legislation that seeks to prohibit unmanned aircraft over private agricultural property. The bill passed committee by a vote of 10 to 0.
Talihina Veteran Center relocation bill passed by Senate Appropriations Committee
Late Wednesday, the Senate Appropriations Committee approved legislation 30-10 to pursue possible relocation of the Talihina Veterans' Center. Navy veteran and Chairman of the Senate Veterans Committee, Sen. Frank Simpson is the author of the Senate Bill 544 that he filed following the questionable deaths of two center residents in the last five months.
SB 544 directs and authorizes the Oklahoma Department of Veterans Affairs (ODVA) to pursue possible relocation of the facility to another location that meets the requirements of the United States Department of Veterans Affairs as a State Veterans' Home.
There are many problems at the nearly 100-year-old Talihina Center which was never designed to be a long term care facility. The facility is 3-stories which limits the mobility and independence of the elderly veterans. Staffing is the biggest issue due to the center's remote location and a limited labor pool. There are currently 30 resident care positions that cannot be filled and there have been reports of nepotism, which is in direct violation of state statute. The aging infrastructure cannot properly support a modern long term care facility with all of the needed technology and medical equipment. The center also does not have access to good water, which is a serious health issue.
The new concept for state veterans' homes provides small group homes with ten veterans per home, private rooms and baths, dining room and kitchen. It's like the veterans home. This concept provides veterans with the independence and dignity they deserve. It improves their quality of life and enhances both their physical and psychological wellbeing. Simpson will be meeting with the Texas Department of Veterans Affairs on March 3 to learn more about the veteran small home concept.  
Bill repealing second income tax cut trigger heads to full Senate
The Senate Appropriations Committee voted Wednesday in favor of a bill that would effectively stop another income tax cut from automatically going into effect based on revenue growth. Sen. Roger Thompson is the author of Senate Bill 170. He's the chair of the Senate Appropriations Subcommittee on Finance, where the bill easily passed its first hurdle Tuesday.
Legislation signed into law in 2014 contained a two-part state income tax reduction. The first lowered the state's top income tax rate from 5.25 to five percent. The rate would have been further reduced to 4.85 percent—the trigger for that reduction would be revenue growth of about $97 million, the cost of implementing the cut. Thompson's bill kills that trigger.
Thompson said the feedback he's received from constituents has been overwhelmingly in favor of his legislation. 
Senate approves bill modifying oversight of online insurance verification system
The full Senate approved legislation Wednesday to transfer oversight of the Compulsory Insurance Online Verification System (OCIVS) for motor vehicle liability policies from the Department of Public Safety (DPS) to the Oklahoma Insurance Department (OID). Sen. Ron Sharp, R-Shawnee, is the principal Senate author of Senate Bill 115 and said the bill is an effort to reduce the number of uninsured drivers in the state.
SB 115 would require the transfer of the system to take place by January 1, 2018. Although district attorneys can already access the system, the bill authorizes their access. The bill allows for license plate numbers to be used in tracking. It also affirms that the Insurance Commissioner does have the regulatory authority to deal with any insurance companies that violate the insurance verification law. Finally, it requires tag agents to accept proof of insurance from insurance agents in the event that OCIVS does not provide a clear answer, and to do so electronically at no extra cost to the person registering the vehicle.
Under the bill, the Oklahoma Tax Commission and DPS would work with OID for the ongoing improvement and maintenance of the system. 
Sen. Pres. Pro Tempore Mike Schulz comments on committee approval of REAL ID bill
Sen. Pres. Pro Tempore Mike Schulz issued the following statement Wednesday after the Senate Appropriations Committee approved House Bill 1845, the REAL ID Act, co-authored by Schulz and House Speaker Charles McCall.
"With committee passage of this bill, the Senate is addressing an issue the vast majority of Oklahomans want us to quickly resolve. Besides allowing Oklahomans the convenience of continuing to use their state-issued driver licenses to fly commercially, fixing the REAL ID problem is an issue of national security. Thousands of Oklahomans work on military bases and need to maintain access so they can continue their important work supporting the brave men and women in our Armed Forces who protect our freedoms. I appreciate my colleagues for supporting this bill and look forward to its quick passage soon off the floor of the Senate."—Senate Pres. Pro Tempore Mike Schulz, R-Altus.
The legislation ensures Oklahomans who choose to get the REAL ID compliant driver license or ID will be able to use that identification to fly or to enter federal facilities while also giving citizens the option of choosing a non-compliant driver license or ID. HB 1845 now moves to the full Senate for consideration. If approved, it goes to Gov. Mary Fallin for her signature.
Education Compact for Kids in State Care heads to full Senate
The Senate Education Committee approved the Education Compact for Kids in State Care Monday. Sen. Ron Sharp, author of Senate Bill 632, said it will remove the barriers that many young people and their families experience when it is time to transition back to their home school after placement within the Oklahoma Office of Juvenile Affairs (OJA) or the Oklahoma Department of Human Services (OKDHS).
"It's important to the mental growth and emotional well-being of these kids that we do what we can to facilitate an easy transition to school. Many don't have structured lives and supportive families like most of us had growing up," said Sharp, R-Shawnee. "What we want is to assure them with all certainty that they can go back to school, they can participate in meaningful and healthy school organizations and also let them know what the requirements are to graduate."
Sharp explained that much of the bill mirrors the Military Compact, which helps kids dealing with multiple deployments transition to different schools quickly and efficiently. The measure also meets guidelines for the Oklahoma State Foster Care Plan or ESSA. 
The measure was requested by the Oklahoma State Department of Education (SDE), OKDHS and OJA who collaborated on the wording and agreed that it was fair and would benefit at-risk youth and their families. 
SB 632 creates an advisory committee consisting of one representative from OJA, SDE and OKDHS. Students in state care would be automatically enrolled when they arrived at school, which would allow time for districts to work with the parent, guardian or a designee from OJA or DHS while the permanent records were being requested. The students would be enrolled even if they did not have up to date vaccination records. Students and families would have 30 days to provide updated records or complete the exemption certificate as required by state law. They would also be allowed to try out for athletics or apply for education or social clubs once they arrived at school. Finally, the bill would provide consistency regarding graduation requirements by enrolling students in the core curriculum track as stated by Oklahoma statute but they would be able to take more rigorous courses or pursue the college prep track if they wanted. 
Gov. Fallin Statement on Resignation of Lt. Gov. Todd Lamb from Her Cabinet
Governor Mary Fallin today issued the following statement after Lt. Gov. Todd Lamb announced his resignation from her Cabinet, where he served as small business advocate:
 "I was disappointed and surprised to learn from a press release that Lt. Gov. Lamb had decided to quit serving as a member of my Cabinet.
 "I have always valued Todd's independent voice. I valued it when we first came into office when we dealt with a similar financial crisis and I value his independent voice today. I've never been afraid to have dissenting voices at the table. I think the people of Oklahoma benefit from that. There will always be a seat at the table for his independent voice.
 "Leading a state is never easy, especially when there are so many challenges and we are faced with a prolonged economic downturn. But through ideas, hard work, long hours and making tough decisions, we can find solutions to those challenges our state faces. We have to.
 "As governor, I have provided a reality check of doing the same thing over and over with the structural deficits of our budget and expecting a different outcome. If we want to educate our children, a teacher pay raise and ensure the health and public safety of our citizens as well as improve our roads and bridges, we must fix the structure of our budget so we don't keep having budget shortfalls and uncertainty."
Gov. Fallin Calls Special Election for State House District 75 Seat
Governor Mary Fallin today ordered a special election to fill the vacancy in Oklahoma House District 75 caused by the irrevocable resignation of Rep. Dan Kirby. His resignation will become effective March 1, 2017.
The filing period for the special election is Feb. 27 and 28, and March 1. The special primary election is set for May 9 and the special general election is scheduled for July 11.
In the event a special primary election is not necessary, the special general election will be May 9.
Kirby, of Tulsa, announced his resignation earlier this month. House District 75 covers part of Tulsa County.
Gov. Fallin Appoints Secretary of State Mike Hunter as Attorney General
Governor Mary Fallin today appointed Secretary of State Mike Hunter to the post of state attorney general.
Hunter succeeds Scott Pruitt, who resigned after being confirmed by the U.S. Senate to become administrator of the Environmental Protection Agency.
Hunter served as first assistant attorney general under Pruitt until Fallin last year named him secretary of state and special legal counsel. He starts his new duties immediately.
Hunter served as first assistant attorney general for Pruitt from June 2015 until October, serving as chief legal adviser and overseeing a staff of over 200 lawyers, law enforcement agents and support staff.
From 2010 to 2015, Hunter was the chief operating officer of the American Bankers Association (ABA), which represents banks of all sizes and charters and is the champion for the nation's $13 trillion banking industry and its 2 million employees. Hunter managed government relations, regulatory, legal and communications activities for the ABA.
Prior to joining ABA, Hunter was secretary of the Commissioners of the Land Office, a $4 billion public land and investment trust in Oklahoma. From 2002 through 2009, Hunter was executive vice president and chief operating officer of the American Council of Life Insurers, the advocacy, legal and research arm of the life insurance industry.
Hunter served as Oklahoma's secretary of state under then-Gov. Frank Keating. He also served as Keating's chief liaison to the Legislature, the state judiciary and the state's federal delegation.
Hunter was chief of staff to then-U.S. Rep. J. C. Watts Jr., of Oklahoma, from 1995 to 1999. His position involved the management of the congressman's office in Washington, D.C., and district offices in Oklahoma. He also served as legal counsel to Watts in his work on the National Security Committee and the Transportation and Infrastructure Committee.
While in private practice as an energy and real estate lawyer, Hunter served as a member of the Oklahoma House of Representatives for six years. In 1988, he was one of eight lawmakers recognized by The Daily Oklahoman as "Oklahoma's Best Legislators."
In 1993 and 1994, Hunter served as general counsel of the Oklahoma Corporation Commission, the state regulatory authority for public utilities, oil and gas, transportation and pipelines. He has also taught political science as an adjunct professor at the University of Central Oklahoma and at the University of Oklahoma.
Hunter received his law degree from OU and his undergraduate degree from Oklahoma State University. He is married to Cheryl Plaxico Hunter, and they have two sons, Barrett and Brock.
Assistant Secretary of State Tod Wall will temporarily assume the duties of secretary of state until the governor names Hunter's successor.