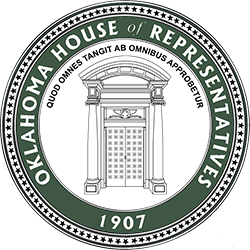 Rep. Sean Roberts Praises Passage of Second Amendment Protection Bill
State Rep. Sean Roberts praised the passage of House Bill 1803, which prohibits the expenditure of public monies to oppose rights protected by the Second Amendment to the United States Constitution.
The bill passed out of the House Public Safety Committee by a vote of 7-6.
The bill is now eligible to be considered by the full House.
Bill to Shield Public from Pornography Passes Committee
A bill that would shield digital pornography from the general public passed the House Judiciary – Criminal Justice & Corrections Committee today with a unanimous vote.
House Bill 1472 by state Rep. Travis Dunlap would require digital service providers to filter content to prevent the transmission of obscene material to consumers.
Dunlap thanked members of the House Judiciary – Criminal Justice & Corrections Committee for supporting the passage of the bill, which passed 11-0.
Savings from State Agency IT Collaboration hits $129 Million Mark
Oklahoma state agencies are realizing an ever increasing amount of savings from Oklahoma government's ongoing information technology unification reform.
On Wednesday, Oklahoma Chief Information Officer Bo Reese told the House Government Modernization Committee that the reform has saved $129 million – a significant increase over the $115 million Reese testified to last fall during a House Appropriations & Budget Committee study.
Reese attributed much of the most recent savings to the recent involvement of the Department of Human Services (DHS) in the unification effort.
In recent months DHS has consolidated their 8,200 square feet of data center space and 55 separate IT systems into just 100 square feet of data center space at the state's shared data center. The old DHS data center space is now available to use for office space allowing the department to give up leased office space.
Reese told committee members that the multi-year IT unification plan is nearing completion and is expected to reach completion by the end of the current fiscal year. 
Democratic lawmakers join #fightingforfamilies week as part of nationwide push
State Rep. Jason Dunnington held a press conference Wednesday advocating for Oklahoma's low- and middle-income families.
Dunnington was joined by other Democratic representatives as part of a nationwide movement fighting for bills that would raise incomes, support creation of good jobs and level the playing field for working families.
Dunnington, along with Reps. Collin Walke, Forrest Bennett, Shane Stone and Claudia Griffith, highlighted bills they filed that would've allowed for paid sick time, tax exemptions for diapers and formula, and increased funding for community health care centers. None of the bills has received a floor hearing, but Dunnington and his colleagues said it was important to remind the public of the ongoing fight for families.
The Democratic representatives intend to continue advocating for the working and middle class during the next legislative session when their bills can be heard again.
The press conference was part of the multi-state #fightingforfamilies movement by State Innovation Exchange Action. The independent nonprofit is committed to achieving progressive change at the state level, while defending against efforts to move our country backward.
House approves bill to increase Oklahomans' access to health care
Two weeks after dozens of nurse practitioners visited the state Capitol to speak with lawmakers, the House of Representatives passed a measure aimed at improving access to health care services across Oklahoma.
House Bill 1013, by Rep. Josh Cockroft, R-Wanette, and Sen. AJ Griffin, R-Guthrie, would eliminate the outdated and unnecessary requirement that nurse practitioners sign a collaborative agreement with a physician. The measure passed the House on Wednesday by a 72-20 vote.
According to the most recent Oklahoma Health Workforce Databook compiled by the Oklahoma State Department of Health, 64 of Oklahoma's 77 counties are designated as primary care Health Professional Shortage Areas (HPSAs). More than 58 percent of Oklahomans live in a primary care HPSA. The state ranks 49th in physician-patient ratio.
Wednesday's vote in the House follows AONP's Legislative Day at the Capitol, which was held Tuesday, Feb. 14. That event saw dozens of nurse practitioners and nursing students visit the Capitol to speak with lawmakers about the issue.
Cynthia Sanford, a nurse practitioner who owns a pediatric clinic in McAlester, attended the event.
In addition, some nurse practitioners must also pay thousands of dollars a month for so-called collaborative agreements with physicians, even though the physician may not see a nurse practitioner's patients or review their charts.
Nurse practitioners working in 22 states and the District of Columbia, and in U.S. Department of Veterans Affairs facilities across the country, all have full practice authority.  
HB1013 now moves on to consideration by the Senate. 
Oklahoma Senate passes REAL ID bill; measure heads to governor for signature
The Oklahoma Senate on Tuesday approved a measure to bring Oklahoma into compliance with the federal REAL ID law. The measure, House Bill 1845, is co-authored by Senate President Pro Tempore Mike Schulz and Oklahoma House Speaker Charles McCall.
The legislation ensures Oklahomans who choose to get the REAL ID compliant driver license or ID will be able to use that identification to fly or to enter federal facilities while also giving citizens the option of choosing a non-compliant driver license or ID. HB 1845 now goes to Gov. Fallin for her signature.
Impaired Driving Elimination Act 2 passes out of Senate Committee
The Senate Public Safety Committee gave the green light to the Impaired Driver Elimination Act 2 (IDEA2) Thursday. Sen. Kim David, R-Porter, is the author of Senate Bill 643, which will create the Impaired Driver Accountability Program (IDAP) within the Department of Public Safety for first time DUI offenders while their license is revoked.
According to the National Highway Traffic Safety Administration (NHTSA), Oklahoma ranked 51st worst for impaired driving fatality rates from 2000 – 2010. However, Oklahoma has seen a 34 percent decrease in alcohol-impaired crashes.
Participants in the IDAP program or who seek driving privileges during a license suspension must pay $50 for an interlock restricted license. Upon completion of the program, there will be no revocation on their license and they will not be charged any reinstatement fees.
The measure makes it a misdemeanor for anyone to operate a non-interlock vehicle for a drunk driver who is in the IDAP program or has an interlock restricted license.
Those who refuse to go into the program will have to have a modified license and an interlock device on their vehicle for one year (rather than the current 180 days) before they can reinstate their license. The revocation will go on their record.
SB 643 was recommended by the Governor's Impaired Driving Prevention Advisory Council. It is strongly supported by Mothers Against Drunk Driving (MADD).
Gov. Fallin Signs REAL ID Compliance Bill

Governor Mary Fallin today, joined by Senate President Pro Tempore Mike Schulz and House Speaker Charles McCall, signed House Bill (HB) 1845, the REAL ID compliance bill. The new law will allow persons to obtain a compliant REAL ID driver's license or identification card.
Both the House of Representatives and the Senate gave overwhelming support to HB 1845. It passed the House 78-18 and won 35-11 approval in the Senate.
HB 1845 was a priority measure for the governor, who urged lawmakers during her State of the State address this year to pass a measure that makes Oklahoma compliant with the federal REAL ID Act. HB 1845 is the first measure of this year's legislative session to be signed into law by the governor. 
Gov. Fallin Statement on Final Legislative Passage of Measure Dealing with REAL ID Act
Governor Mary Fallin today issued this statement after the Oklahoma Senate voted 35-11 to give final legislative passage to House Bill 1845, which would allow persons to obtain a compliant REAL ID driver's license or identification card:
"I'm pleased to see the Legislature work so quickly on this important issue. We cannot burden Oklahomans with the additional cost and hassle of providing identification to gain entrance to federal buildings, military bases or federal courthouses. And most certainly we can't let them down by forcing them to have additional identification in order to board a commercial airliner in January. I look forward to receiving this bill on my desk."
Gov. Fallin Congratulates Oklahoma Natives for "La La Land" Success
Governor Mary Fallin today congratulated Oklahoma natives Trent and Thad Luckinbill for their work on the film, "La La Land," which received six Oscars during Sunday night's Academy Awards ceremony.
Trent and Thad Luckinbill, Enid natives and brothers, helped finance and produce "La La Land" through their company, Black Label Media, which they formed with producer Molly Smith in 2013. In only a few short years, the company has financed and produced a number of hit films including "Demolition," "71," "The Good Lie," "Begin Again" and "Sicario", which was nominated for three Academy Awards in 2015. The Oklahoma Film + Music Office is working with the duo in hopes of attracting one of their future productions to Oklahoma.
The Luckinbills have come a long way since graduating from the University of Oklahoma. Trent, who earned a law degree, has an extensive legal and financial background with the Department of Treasury's Office of Financial Stability and the Justice Department in Washington, D.C. Shortly after earning a business degree, Thad moved to California where he began working as both an actor and producer, widely known for his role as J.T. Hellstrom on the CBS soap opera "The Young and the Restless." Their recent success with "La La Land" has transformed into box office gold as the film has dominated the box office, raking in more than $343 million since its release.
"La La Land" won six Oscars; for lead actress, best director, cinematography, production design, original score and original song. With a total of 14 Oscar nominations, the film tied "Titanic" and "All About Eve" for the most nominations for a single film in motion picture history.
Written and Directed by Damien Chazelle ("Whiplash"), "La La Land" is a modern-day musical with a classic flair that tells the story of a jazz pianist (Ryan Gosling – "Drive," "The Notebook") who falls for an aspiring actress (Emma Stone – "The Help," "Birdman") in Los Angeles.