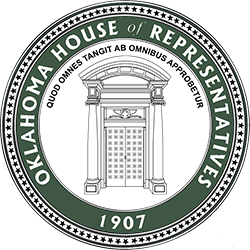 Crime bill passes through committee with bipartisan support
Legislation that seeks to consider all rape by instrumentation as rape in the first degree has passed its first hurdle to becoming law after the House Judiciary – Criminal Justice & Corrections Committee unanimously voted to approve the measure.
House Bill 1005 is the second piece of legislation written by Rep. Scott Biggs that attempts to strengthen Oklahoma's rape laws. The first, House Bill 2398, was passed during the 55th Oklahoma Legislature and signed into law by Gov. Mary Fallin last June.
The legislation passed through committee with a bipartisan 12-0 vote.
Biggs, an assistant majority floor leader, represents House District 51, which is comprised of Grady, McClain and Stephens counties. He is also the chair of the House Judiciary – Criminal Justice and Corrections Committee.
Speaker McCall Announces GovDelivery to Communicate House News
Oklahoma House Speaker Charles McCall today announced the use of the GovDelivery platform for all House statewide news releases.
GovDelivery is another resource for the Oklahoma House of Representatives to expand on its leading efforts of government transparency, said state Rep. Jason Murphey, chair of the House Government Modernization Committee.
The new platform will allow users to receive email updates on multiple topics and, in the future, text updates on important information. It also allows the House to streamline several communication features, increasing efficiency of House staff.
The Oklahoma House of Representatives will continue to enhance the offerings and capabilities of GovDelivery as it moves forward.
Those wishing to subscribe to House communications can visit the House website at http://okhouse.gov/. Enter an email address in the box that displays on the front page of the website, which will lead to a page where subscriber preferences can be managed. 
Legislation Proposed to Increase Revenue without Raising Taxes on Oklahomans
A measure has been filed to increase the number of state auditors in order to find tax monies from out-of-state companies connected to Oklahoma.
The Out-of-State Tax Collections Enforcement Act of 2017, House Bill 1427 written by State Rep. Kyle Hilbert and State Sen. James Leewright, instructs the Oklahoma Tax Commission to employ at least five auditors with a sole focus on out-of-state companies with a nexus in Oklahoma.
Many other states have taken similar measures. The Texas Comptroller has audit field offices in Tulsa, New York City, Los Angeles and Chicago. A $50,000 investment into an auditor brings an approximate $500,000 return to states.
Currently, the Oklahoma Tax Commission has no auditors enforcing sales tax compliance on out-of-state companies with a nexus in Oklahoma. If audited, generally, the statutes of limitations is three years from the last filed report or return.  However, if a remote seller has never filed any reports or returns as required, then there is no statute of limitation.  
According to the latest budget projections, Oklahoma faces an $868 million shortfall. HB1427 has been referred to the House Appropriations & Budget Finance Subcommittee for a hearing Wednesday, Feb. 15.
Committee to Receive Report of Millions in Savings to Taxpayers
A House committee is preparing to take testimony showing the yearly cost to Oklahoma taxpayers has decreased by millions of dollars as a result of reforms to the state's purchasing laws.
On Wednesday, Oklahoma State Purchasing Director Ferris Barger will provide his most recent savings report to members of the House Government Modernization Committee.
Barger's report is a result of past legislative purchasing reforms that were sponsored in response to an audit of Oklahoma's purchasing agency. Those reforms sought to refocus the agency on managing and driving down the cost of items that are commonly used by most state agencies.
The reforms also require the release of an annual savings report so the Legislature can track the implementation of the savings effort. 
The latest report shows $76 million in savings during the 2016 fiscal year. This savings amount is a combined result of both traditional purchasing contract savings and information technology purchasing reforms from Oklahoma's newly unified Information Technology agency.
Barger's testimony will take place during the committee's 10:30 a.m. meeting. The public is invited to attend or to listen live on the Internet. 
The most recent savings report may be viewed at https://www.ok.gov/DCS/documents/ProcurementSavingsReportFY2016.pdf 
HB1482 – Protecting Children from Drugs and the Public from Deception 
State Rep. Tim Downing co-authored House Bill 1482 by Rep. Scott Biggs, which passed the House Judiciary – Criminal Justice & Corrections Committee with a vote of 11-1 this morning.  The bill will protect children and locations where children are targeted.  Drug crimes involving children will still be a felony, and can still be charged as a misdemeanor by discretion. Other options will still be available as well, including drug court and deferred or suspended sentences.  
The language of the ballot title presented to the voters regarding drug crimes read as follows:
This measure amends existing Oklahoma laws and would change the classification of certain drug possession and property crimes from felony to misdemeanor. It would make possession of a limited quantity of drugs a misdemeanor. The amendment also changes the classification of certain drug possession crimes which are currently considered felonies and cases where the defendant has a prior drug possession conviction. The proposed amendment would reclassify these drug possession cases as misdemeanors.
The petition for SQ780 was filed by its proponents with language that did not mention children or locations where children are targets. The Attorney General's Office found the language was insufficient to explain the effect and proposed corrective language to include explanation that felonies would be reduced to misdemeanors for possession "within 1,000 feet of a public or private school or public park" and "in the presence of a child under the age of twelve."  
Rather than agree the public should know how the proposal would radically affect our children, the petitioner challenged the corrected language before the Oklahoma Supreme Court, claiming the ballot title focused on portions of the law "which evoke emotionally charged responses" which included "possessing drugs within 1,000 feet of a public or private school or public park and possessing drugs in the presence of children under the age of twelve".  The Oklahoma Supreme Court ruled in favor of SQ780 proponents, and rewrote the ballot title, but likewise made no mention of children or locations where children are targets, which is ultimately the language the voters had before them in the ballot box.
The Attorney General went a step further following this decision, by filing a petition with the Oklahoma Supreme Court urging the court on the importance of informing the public about the impact on children as well as other effects not mentioned in the ballot title.
In a final plea the brief stated, "the proponents do not want the public to know exactly what this measure does to our drug laws because they believe if the public knows, the public will reject the measure." The full record of these proceedings and the intentional elimination of references to children and schools can be found at the Secretary of State website: https://www.sos.ok.gov/documents/questions/780.pdf
Ultimately, despite there being multiple efforts for the public to be informed, those wanting to hide this information prevailed, and SQ780 went to the public without a single mention of children or locations where children are targeted.  
The next opportunity for citizens to vote on a ballot issue is November 2018, and all groups including those who initiated SQ780 would be allowed to present another question to the voters at that time.
HB1482 will now be available to be heard by the full House, and will need to receive support in the Senate and by the Governor as well. 
House passes REAL ID bill to address noncompliant licenses
Legislation to bring Oklahoma licenses into compliance with federal law was approved today with a 78-18 vote by the Oklahoma House of Representatives.
House Bill 1845, by state Rep. Leslie Osborn, creates a REAL ID-compliant driver's license or identification card for the state of Oklahoma. Individuals may also opt to retain their noncompliant licenses or identification cards.
Oklahoma currently has a U.S. Department of Homeland Security extension through June 6, 2017, to conform to the REAL ID Act of 2005. Military bases and federal facilities currently accept Oklahoma driver's licenses. A REAL ID will be required by the TSA to board commercial aircraft beginning on January 22, 2018.
The legislation will now advance to the Oklahoma Senate for consideration.
Senate committee approves wire transfer fee for illegal immigrants
Each year, millions in untaxed money is wired out of the United States to other countries including from Oklahoma. The Senate Appropriations Committee approved Senate Bill 547 Wednesday to charge a fee on international wire transactions for individuals who do not present valid personal identification. Sen. Paul Scott, the principal author, said he filed the legislation to reduce the number of undocumented immigrants sending money out of the state as well as address drug money being funneled to other countries.
SB 547 would authorize money transmission licensees to collect a $10 fee for transactions of up to $500 and a one percent fee for transactions over $500. The fees would be remitted quarterly to the Oklahoma Tax Commission (OTC) and deposited into the General Revenue Fund.
Under the bill, a valid personal identification is an unexpired state-issued driver license, permit or temporary permit or identification card issued by the Department of Public Safety, or any unexpired federally-issued document from the U.S. Customs and Immigration Service authorizing a lawful presence.
SB 547 now moves to the full Senate.
Sen. Shortey announces town hall meeting; clarifies legislation to fix issues with criminal justice reforms
Sen. Ralph Shortey has announced a public forum scheduled for Monday, February 13 at Oklahoma City Community College to discuss questions about Senate Bill 512, which is aimed at changing pieces of the new criminal justice reform laws that were approved by voters last November. State Questions 780 and 781 included changes in the law to make possession of all drugs a misdemeanor and redirects state funds to drug treatment programs among many other changes.
Shortey will host the town hall meeting on Monday, February 13 at Oklahoma City Community College at 6:30pm in room CU-1 & 2. The address for OCCC is 7777 South May Ave. in Oklahoma City. This will be the first of many forums he intends to hold as the legislature considers criminal justice reforms. The forum will be open to the public and Shortey encourages anyone with an interest to attend. 
Out-of-school suspension approved for violent elementary students
Student violence towards other students, teachers and school staff in Oklahoma's elementary schools is a growing problem. Retired educator Sen. Ron Sharp is the author of Senate Bill 81 to address the issue by lowering the grade level from sixth to third at which students can be subject to out-of-school suspension for violent behavior or threats. The Senate Education Committee approved the measure Monday.
Currently, 6th-12th graders are subject to out-of-school suspension if they assault, attempt to cause physical bodily injury, or act in a manner that could reasonably cause bodily injury to an education employee or a person who is volunteering for the school. SB 81 will add third to fifth graders to the list.
The legislation was requested by Professional Oklahoma Educators (POE) who told Sharp that they were getting increasing reports of younger students (3rd-5th graders) being violent towards teachers and asked him to file legislation to protect them and other school employees.
The bill will next be heard by the full Senate.
Senate Appropriations Committee on Education approves teacher pay increase legislation
 The Senate Appropriations Subcommittee on Education met Wednesday and approved half a dozen measures to increase teacher pay in Oklahoma.  Sen. Jason Smalley, R-Stroud, chairs the subcommittee.   He said with 48 members, there were several different ideas of how much the raises should be and how to pay for it.
The pay plans approved by the subcommittee included: 
·         SB 8 by Sen. Ron Sharp, R-Shawnee
·         SB 97 by Sen. Micheal Bergstrom, R-Adair
·         SB 137 by Sen. J.J. Dossett, D-Owasso
·         SB 309 by Sen. Marty Quinn, R-Claremore
·         SB 316 by Sen. David Holt, R-Oklahoma City
·         SB 618 by Sen. Gary Stanislawski, R-Tulsa 
Gov. Fallin Appoints Paul Smith as District Attorney for Seminole, Hughes and Pontotoc Counties
Governor Mary Fallin today announced she is appointing long-time prosecutor Paul Smith as district attorney for Seminole, Hughes and Pontotoc counties. He will replace Chris Ross, who retired Jan. 1.
Smith, of Seminole, will serve as district attorney for the remainder of Ross's term, which expires in January 2019.
"Paul Smith has 30 years of prosecution experience and has served as first assistant district attorney in District 22 the past five years," said Fallin. "He has dedicated his career to serving the people of Oklahoma as a prosecutor. I know he will continue to serve the people in District 22 well."
Smith has broad trial experience and has won guilty verdicts in numerous homicide cases. He is a co-founder of one of the state's first rural drug courts
He served as first assistant district attorney and chief prosecutor in District 22 since July 2011. Before that, he served 11 years as an assistant district attorney in District 22. From July 1989 until November 1990 he served as an assistant district attorney for Choctaw, Pushmataha and McCurtain counties and from October 1986 until June 1989 he served as an assistant district attorney in Tulsa County.
Smith earned a bachelor of science degree from Oklahoma State University and his juris doctorate from the University of Tulsa's college of law. 
Aid Approved for 10 Counties to Assist Local Governments, Rural Electric Cooperatives
Governor Mary Fallin today announced the federal government has approved disaster assistance to help with recovery expenses in 10 counties related to the Jan. 13-16 ice storm.
The Federal Emergency Management Agency (FEMA) approved the request to aid municipalities, counties, rural electric cooperatives and the state with infrastructure repairs and costs associated with responding to the storm.
The 10 counties approved for public assistance are: Beaver, Beckham, Dewey, Ellis, Harper, Major, Roger Mills, Texas, Woods and Woodward.
The ice storm caused widespread power outages in northwest Oklahoma. At least four deaths and 65 injuries are attributed to the winter weather. Damage assessments indicate the storm resulted in more than $22 million in infrastructure damage, debris and response costs.
Gov. Fallin Issues Two-week Burn Ban for 53 Counties
Governor Mary Fallin today issued a two-week burn ban for much of the state because of extreme weather conditions and extraordinary fire danger.
The governor's burn ban supersedes all county burn bans currently in place. It expires Feb. 24.
The ban covers 53 counties: Adair, Atoka, Canadian, Carter, Cherokee, Choctaw, Cleveland, Coal, Craig, Creek, Delaware, Garfield, Garvin, Grady, Grant, Haskell, Hughes, Jefferson, Johnston, Kay, Kingfisher, Latimer, Le Flore, Lincoln, Logan, Love, McClain, McCurtain, McIntosh, Marshall, Mayes, Murray, Muskogee, Noble, Nowata, Okfuskee, Oklahoma, Okmulgee, Osage, Ottawa, Pawnee, Payne, Pittsburg, Pontotoc, Pottawatomie, Pushmataha, Rogers, Seminole, Sequoyah, Stephens, Tulsa, Wagoner and Washington.
Oklahoma Forestry Services, a division of the Oklahoma Department of Agriculture, Food and Forestry, recommended the ban based upon an analysis of fire activity, wildland fuel conditions and the predicted continued drought as criteria for recommending the ban.
The governor urged people to be extremely vigilant because conditions are ripe to spark a large fire.
Unlawful activities under the ban include campfires, bonfires, and setting fire to any forest, grass, woods, wildlands or marshes, as well as igniting fireworks, burning trash or other materials outdoors.
As part of the governor's burn ban, there are exemptions for a number of items, such as welding and road construction. For more specific information and details, visit www.forestry.ok.gov/burn-ban-information or call Michelle Finch-Walker with the Oklahoma Forestry Services at (580) 236-1021.
Gov. Fallin, OMES on Cybersecurity Incident: Unification Essential to Prevent Cybersecurity Attacks
Governor Mary Fallin and the Oklahoma Office of Management and Enterprise Services (OMES) are offering the following  information regarding a cyberattack against a state agency that was referenced last week during a state House of Representatives Government Modernization Committee meeting.
The agency referenced did not pay a ransom as a result of the cyber incident, an investigation by Oklahoma CyberCommand, an arm of OMES Information Services, confirmed today.
The incident in question was a ransomware attack on an agency that had not had its information technology (IT) unified under House Bill 1304 passed in 2011. The fact that the incident even brought about the consideration of paying a ransom shows the importance of IT unification.
"This incident further illustrates how essential IT unification has been in protecting our state's technological infrastructure," Fallin said. "The importance of state agencies unifying their IT with OMES to have the best cybersecurity available cannot be understated. "
Unification allows agencies to have the updated resources of Oklahoma CyberCommand that quickly detect and prevent ransomware attacks, said Oklahoma CyberCommand Director Mark Gower.
"CyberCommand has created a specific set of technical and response capabilities for dealing with an increase in ransomware attacks that can encrypt state computers and make them inaccessible until ransom has been paid," Gower said. "Not a single unified state agency has been forced to pay ransom. Nonunified agencies don't have access to the same levels of services through CyberCommand and can therefore be more vulnerable."
In 2016, CyberCommand successfully responded to about 32,000 cases of unique malware, about 750 instances of malicious activity, nearly 400 occasions of unauthorized access and two denial-of-service attacks. The state's ongoing information technology unification effort and the OMES Security Operations Center can identify and respond quickly 24/7 to cyberattack. Nonunified agencies are responsible for their own cybersecurity and typically don't have the same updated resources available through Oklahoma CyberCommand.
"This just validates that unification efforts are proving to be successful on this front in addition to saving Oklahomans millions of dollars," said Secretary of Finance, Administration and Information Technology Preston L. Doerflinger, who is the director of OMES.
"Any calls to unwind the mandated unification of state agencies or exempt certain state agencies from the unification process are misguided and motivated by something other than the best interests of the state of Oklahoma," Doerflinger said. "Further, as this incident shows, those misguided efforts could expose Oklahomans private information to greater chances of falling into the wrong hands."
To date, 58 of 78 legislatively mandated agencies have unified their information technology with OMES. Another 31 agencies have voluntarily unified their IT with OMES. Unifying IT services has not only resulted in a combined reduced spending and projected savings of about $129 million, but also provides better access to security resources, said Oklahoma Chief Information Officer Bo Reese.
"The state continues to have cyber threats, and the services unified agencies have afford greater protections than agencies that have not yet consolidated," Reese said.
At this time, no further details of the referenced incident are available for release as it could compromise the cybersecurity of the agency in question and possibly other agencies.
As part of the unification effort, the remaining 20 legislatively mandated agencies are expected to be unified with OMES by the end of the fiscal year. 
Gov. Fallin Lifts Burn Ban
Due to significant rainfall that moved across the state, Governor Mary Fallin today signed an executive proclamation removing a burn ban she ordered for 53 counties. The governor issued the burn ban on Friday because of extreme dry and weather conditions; rains moved across the state Monday and Tuesday.
The governor removed the ban at the recommendation of Oklahoma Forestry Services (OFS), which conducted an analysis of the impact of the rainfall in the affected counties. The removal of the governor's burn ban has no effect on county burn bans that were in place. OFS is contacting those counties to confirm which bans will remain or be rescinded.
"Individual counties can utilize more localized data, conditions and fire occurrence to decide if burn bans are called for on a county level," said Fallin.
In the counties no longer covered by the governor-proclaimed burn ban, citizens are urged to check with local officials or visit www.forestry.ok.gov/burn-ban-information to see if county burn bans have been enacted before doing any type of burning.
"The rainfall had a positive impact on the larger forest fuels such as branches and fallen trees, but our light grassy fuels will dry out quickly and will still carry fire," said George Geissler, Oklahoma state forester.  "We are still in our winter fire season, and in the absence of spring green-up we could find ourselves right back in high fire danger within a week or so. The rain just gave firefighters a break from the extreme fire behavior that necessitated the burn ban."
OFS, a division of the Oklahoma Department of Agriculture, Food and Forestry, asks residents to report any suspicious smoke or fire to the nearest fire department immediately.
Oklahoma Forestry Services is the state's lead agency related to wildland fire prevention and protection. For additional information about wildfires, visit www.forestry.ok.gov/wildfire-information. 
Gov. Fallin Statement on the House of Representatives Passing REAL ID Measure
Governor Mary Fallin today issued the following statement after the state House of Representatives passed House Bill (HB) 1845, which would bring Oklahoma into compliance with the federal Real ID Act:
"I'm pleased to see the House of Representatives taking action on this measure so early in the legislative session. This measure addresses the necessary steps to meet all the requirements of the REAL ID Act. I look forward to similar quick action in the Senate.   We cannot burden Oklahomans with the additional cost and hassle of providing identification to gain entrance to federal buildings, military bases or federal courthouses.  Failure to approve this measure also will force those with just Oklahoma driver's licenses to have additional identification in order to board a commercial airliner beginning in January."
HB 1845 passed, 78-18, and now goes to the Senate for consideration.
Lamb Breaks with Fallin on Tax Policy
Says "proposal will adversely harm Oklahoma's small businesses and families"
Lt. Governor Todd Lamb today announced his resignation from Governor Fallin's cabinet, where Lamb has served as the state's Small Business Advocate, one of many roles the Lt. Governor fills.  This resignation does not affect Lamb's role as Lt. Governor.   
"In Oklahoma, the Governor and Lt. Governor are separately elected positions. While both are Republicans, at this time Lieutenant Governor Lamb believes it is best for him to vacate the cabinet position," stated Lamb's Chief of Staff, Keith Beall.  "His decision to resign was made after yesterday's cabinet meeting in which Governor Fallin maintained her support for taxing 164 services affecting every Oklahoma small business and family," Beall concluded.
Lt. Governor Lamb made the following statement
"Governor Fallin deserves to have someone in her cabinet who can be a strong advocate for her agenda, and that is something I am unwilling to do.  While I respect the determination with which Governor Fallin met her obligation to present a balanced budget to the legislature, I cannot support her proposed tax increases.  This proposal will adversely harm Oklahoma's small businesses and families, especially those in our service industry.  While Governor Fallin and I have disagreed on issues from time-to-time, our differences on this important topic are so significant they preclude me from continuing to serve on her cabinet."