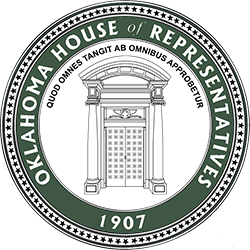 House Swears in Taylor to fill District 28 Seat
Zack Taylor (R-Seminole) was sworn into the Oklahoma House of Representatives Tuesday evening to represent House District 28. That seat was vacated when former state Rep. Tom Newell resigned Dec. 31, 2016.
The House on Tuesday evening held a vote to officially seat Taylor bringing the number of representatives to 99 for this session. Two additional special elections will be held later this year to fill seats for House District 75 in Tulsa and House District 76 in Broken Arrow.
New law will assure greater tax compliance for out-of-state companies doing business in Oklahoma
A measure to assist the Oklahoma Tax Commission's (OTC) efforts to ensure all taxes owed by out-of-state companies are remitted has been signed into law. Rep. Kyle Hilbert, R-Depew, and Sen. James Leewright, R- Bristow, are the principal authors of House Bill 1427, the Out-of-State Tax Collections Enforcement Act of 2017.
The legislation authorizes the creation of a dedicated division within the agency so the Commission will be able to use its trained personnel to focus solely on out-of-state vendors who may not be in compliance with Oklahoma tax code.
OTC Executive Director Tony Mastin expressed his thanks to Hilbert and Leewright, adding the Commission strongly supported the measure.
Leewright said when looking at tax policy in the state, he felt it was important to make sure those out-of-state companies doing business here in Oklahoma were correctly remitting what they owed.
HB 1427 takes effect beginning November 1, 2017.
GOP Platform Caucus Issues Statement
House Republican Platform Caucus issued the following statement.
"The idea of identifying and detaining non-English speaking students was never discussed in any of our meetings. We absolutely do not support this idea.
The House Republican Caucus consists of 72 members who hold a variety of beliefs.
The public comments of a single member acting on his own do not reflect those of the Platform Caucus. It is disappointing that the press would take the public comments of a single member and apply them to the entire caucus."
STATEMENT: House Speaker McCall on GOP Platform Caucus
House Speaker Charles McCall issued the following statement today regarding the House GOP Platform Caucus.
"There are currently 72 Republican members in the Oklahoma House of Representatives. A few of those Republicans are also members of the GOP Platform Caucus, which was created just last week. The GOP Platform Caucus speaks only for those members who have joined; it does not speak for the entire 72-member House Republican Caucus. The idea of identifying and detaining non-English speaking students in our public schools has never been considered by the House Republican Caucus since I have been a member of the House of Representatives. Furthermore, the United States Supreme Court has already ruled upon this matter."
Sen. Floyd receives Guardian Award for legislative efforts on behalf of Oklahoma women and families
State Sen. Kay Floyd has been awarded the 2017 Guardian Award by the Oklahoma Commission on the Status of Women (OCSW). The presentation took place Wednesday at the state Capitol. The award is given each year to an elected official who has made significant governmental contributions to guarding, protecting and preserving the rights of women and families.
"When our laws and institutions protect the rights, safety and health of women and children, it isn't just something they benefit from—these efforts strengthen Oklahoma families, our communities and, ultimately, our entire state," said Floyd, D-Oklahoma City. "I'm grateful for the support these initiatives have received from my fellow members of the Legislature, the governor, law enforcement, community leaders, advocates and so many others, and I thank the Commission for not only this recognition, but for their efforts on behalf of women and families as well."
A former assistant attorney general and Administrative law judge, Floyd served one term in the House of Representatives prior to being elected to the State Senate in 2014. Throughout her service in both chambers, Floyd has championed numerous efforts on behalf of women, children and families, authoring legislation to provide suicide prevention assistance in Oklahoma schools and reduce domestic violence.
During the 2017 session, she filed legislation resulting in Gov. Mary Fallin's creation of the Oklahoma Task Force on Sexual Assault Forensic Evidence to determine the number of untested rape kits throughout the state and develop recommendations for reducing the backlog and better assisting victims.
"The Commission is delighted to recognize Senator Floyd's important contributions to Oklahoma women with the 2017 Guardian Award," said OCSW Chair Maria Trapp-Braly. "We appreciate Sen. Floyd and all our legislators who do their part of supporting and empowering women in Oklahoma."
Gov. Fallin Statement on Cigarette Tax Vote in Oklahoma House
Governor Mary Fallin today released the following statement on the vote in the Oklahoma House on House Bill 2372, a revenue-raising measure to increase the tax on cigarettes by $1.50 per pack:
"I'm disappointed in those legislators who put political games and Washington-like gridlock ahead of the lives of Oklahomans and the core services our citizens expect.
"It's personal to those of us who have lost loved ones to smoking-related illnesses. It's personal to teenagers in Oklahoma who would have been saved from lives of tobacco addiction if the bill had passed. It's personal for citizens who would have received health care from the new revenue.
"I encourage all citizens to contact legislators and urge a yes vote on a smart way to protect the health of our citizens and the health of our state services."
Gov. Fallin Seeks Assistance for April Severe Storms, Flooding and Snow
Governor Mary Fallin today announced the state of Oklahoma has requested a major disaster declaration from the federal government for 18 counties impacted by severe weather that occurred April 28 – May 2.
If approved, the designation would deliver federal funding to assist municipalities, counties and rural electric cooperatives with infrastructure repairs, debris removal, and costs associated with responding to the storm.
The counties are: Adair, Beaver, Caddo, Cherokee, Cimarron, Craig, Delaware, Haskell, Kiowa, Lincoln, Logan, Mayes, Muskogee, Ottawa, Pittsburg, Sequoyah, Texas and Washita.
The storms caused extensive flooding in eastern and central Oklahoma, and widespread snow and high winds in the Oklahoma Panhandle. Three tornadoes occurred on April 28 and 29, including an EF-2 tornado near Cameron. The weather created treacherous travel conditions, road closures and power outages. Damage assessments indicate the storm resulted in more than $12.7 million in infrastructure damage, debris and response costs.
Additional counties may be added to the public assistance declaration request at a later date should conditions warrant.
Fallin also requested a U.S. Small Business Administration (SBA) disaster declaration for Cherokee and Haskell counties to assist those impacted by the storms and flooding.
The governor's request would bring SBA low-interest disaster loans for renters, homeowners and business owners to repair or replace any property that was damaged by the flooding and severe storms but was not covered by insurance. The loan program would also be available to assist businesses that sustained economic losses due to the storms. If the request is approved, under SBA rules the assistance would also be available in counties contiguous to Cherokee and Haskell counties.
Damage assessments in Cherokee and Haskell counties found at least 63 homes and businesses impacted, which included 55 homes that sustained major damage or were destroyed.
Gov. Fallin Statement on Betty Shelby Jury Verdict
Governor Mary Fallin tonight released the following statement after jurors reached their verdict in the trial of Tulsa police officer Betty Shelby:
"I ask Oklahomans to respect our criminal justice system and especially the jurors, who heard the evidence from both sides in this case. Those who disagree with the verdict have the right to express their opinions; I just ask that they do so in a peaceful manner. I appeal to Tulsans and others to remain calm. Our thoughts and prayers should be with the Terence Crutcher and Betty Shelby families during this difficult time."
Gov. Fallin Appoints Kory Slade Kirkland as District Judge for Caddo and Grady Counties
Governor Mary Fallin today announced the appointment of Kory Slade Kirkland as district judge for Caddo and Grady counties. He is replacing Judge Richard G. VanDyck, who retired.
Kirkland's appointment is effective immediately.
Kirkland, of Chickasha, has been in private practice since 2011 as a part of the Hays & Kirkland law firm. He also serves as municipal judge for the cities of Chickasha and Amber. Before that he worked as an assistant district attorney for Grady, Caddo, Stephens and Jefferson counties.
Kirkland also serves as an adjunct professor at the University of Science and Arts of Oklahoma. He teaches juvenile justice in the fall and criminal law in the spring. He also is a longtime volunteer on Grady County's drug court team.
Kirkland earned a bachelor's degree from the University of Oklahoma and a juris doctorate from Oklahoma City University.
Kirkland has lived in Chickasha since 2009. He and his wife, Elizabeth, have a son, Kade.