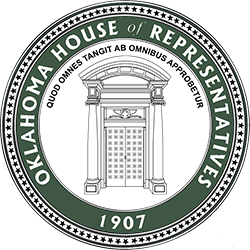 Governor Signs Bill that Develops Individual Career Academic Plan
The governor this week signed House Bill 2155 by State Rep. Jadine Nollan and Sen. Gary Stanislawski, R-Tulsa.
The bill allows for a two-year pilot program of the Individual Career Academic Plan (ICAP). The multi-year guidance tool – developed by individual students, the student's parents or legal guardians in collaboration with their school counselors, school administrators, teachers, and other school personnel – will help students strategically plan a post-secondary pathway to align with their self-defined, career, college or life goals.
She pointed out that Oklahoma is one of only seven states that did not have a plan like this in place.
Twenty-seven districts have already agreed to voluntarily participate in the 2017-18 school year. The goal is for ICAP to continue to expand and add districts on a voluntary basis in 2018-19. In 2019-20, ICAP would be implemented statewide. It would also serve as one of the multiple measures for graduation required by House Bill 3218 that passed last year.
Senate sends Oklahoma's Promise bill to governor
The Senate gave unanimous final approval Tuesday to legislation modifying Oklahoma's Promise, the state-sponsored tuition program. Sen. Jason Smalley is the author of Senate Bill 529, which he said makes necessary changes to the program to protect the integrity and stability of the program.
Oklahoma's Promise allows eighth-, ninth- or 10th-grade students from families with an income of $50,000 or less to earn a college tuition scholarship. SB 529 changes the definition of income at the time of application in the 8th-10th grade from "taxable and nontaxable" income to "federal adjusted gross income" and increases the family income limit from $50,000 to $55,000.
The bill will stop payment for remedial courses beginning in 2018-2019 at an estimated annual savings of approximately $1.5 million.
SB 529 changes how often family incomes are checked. Currently, the statutes require that the second income check at $100,000 for Oklahoma's Promise students be conducted only one time when the student starts college. Under this bill, the $100,000 check will be conducted every year the student is in college, beginning with the 2018-19 academic year for an annual estimated savings of about $1.5 million.
The measure also requires the State Regents to establish a maximum limit on the number of college credit hours covered by the scholarship. Currently, students are eligible to receive the scholarship for up to five years or the completion of a baccalaureate degree, whichever comes first. This will limit the number of credit hours paid for during the five year period.
Most undergraduate degrees require 120-124 semester credit hours but about 20 percent of degrees require more than 124 hours, including a number of engineering degrees and some teacher education degrees in specialty areas such as science and music. Undergraduate architecture degrees require up to 150 credit hours. Through the Administrative Procedures Act, the State Regents will establish a general maximum limit on credit hours while allowing exceptions to that limit for degrees requiring credit hours in excess of the limit. The limit is expected to be applicable to first-time entering freshmen college students in fall 2018. Once fully implemented, the change is expected to save about one to two percent of total program costs annually.
Senate committee approves landmark 'Oklahoma Energy Jobs Act of 2017'
An Oklahoma Senate committee on Tuesday gave approval to a major jobs bill from Senate President Pro Tempore Mike Schulz that is anticipated to spur a significant increase in oil and gas drilling in the state of Oklahoma, creating thousands of new energy jobs and boosting state and local revenues.
Senate Bill 867, also known as the Oklahoma Energy Jobs Act of 2017, allows multiunit, or long-lateral, drilling in all rock formations, not just shale. Currently, Oklahoma is the only state that restricts long-lateral drilling based on the type of rock formation. The bill also provides safeguards for property owners, mineral owners, and all operators.
By industry estimates, in its first year SB 867 will generate approximately $490 million in new royalty payments, more than $229 million in new state and local revenues (combined gross production tax, sales tax, and income tax generated from increased drilling activity), and create nearly 6,000 new jobs in the oil and gas sector. Additionally, the measure is expected to unlock nearly $6 billion in investment from major oil and gas companies.
Sen. Bryce Marlatt, chairman of the Senate Energy Committee, hailed the passage of SB 867 as a win for the state, industry, and land owners.
Legislation updating, streamlining sex offender registration becomes law
Legislation improving the state's sex offender registry law has been signed by the governor. Senate Bill 217, by Sen. AJ Griffin and Rep. Mike Osburn, modifies Oklahoma's current sex offender registration law to streamline the notification process between local law enforcement, the courts and the Department of Corrections (DOC) and, in certain cases, will require notification of the Department of Human Services (DHS) as well. It also directs courts assigning sex offender registration levels to follow the guidelines used by the state's sex offender level assignment committee.
The DHS notification requirement was a request of the Oklahoma Commission on Children and Youth. Current law allows registered sex offenders to live with their own children, step-children or grandchildren, but under the provisions of SB 217, when the sex offender returns to that home, DHS will be notified.
The assignment of "levels" to convicted sex offenders determines how long they must register with law enforcement based on their assessed risk of reoffending as established by the state's sex offender level assignment committee. That committee assigns those levels for offenders who are actually incarcerated. The change in SB 217 ensures that when courts assign a level in the case of probation, suspended or deferred sentences, the criteria for doing so is the same as that of the committee.
SB 217 takes effect November 1, 2017.
Gov. Fallin Announces Grant to Reach Launch Oklahoma Goal
Governor Mary Fallin today announced that Oklahoma has received a grant to pursue the Launch Oklahoma goal she put forth in December (Executive Order 2016-41). This goal is to increase to 70 percent the number of Oklahomans, age 25-64, who complete a postsecondary degree, certificate or credential by the year 2025. Currently, only approximately 40 percent of the state's residents have that level of education or training.*
This grant from the Lumina Foundation will provide $100,000 towards enacting evidence-based policies aimed at decreasing attainment inequities among African American, American Indian, and Hispanic populations. It will also provide assistance for targeted promotion of education, training and certificate programs for high-demand occupations among older Oklahomans, as well as lower-income and underserved populations. The grant is effective May 15, 2017 to May 14, 2018.
Launch Oklahoma was developed as a result of recommendations by the Oklahoma Works Leadership Team, led by Secretary Shirley. The team includes representatives from higher education, CareerTech, the state Department of Education, the Commerce Department, the Office of Workforce Development, and the Oklahoma Educated Workforce Initiative. The statewide goal to increase the overall postsecondary educational attainment of Oklahoma's workforce from 40 percent to 70 percent means nearly 600,000 more workers will need a postsecondary degree, certificate or other high-quality credential in just eight years. To meet this goal, state agencies, educators, businesses and workforce partners will collaborate during the next several months to create a strategic plan to increase overall educational attainment. This plan will be due to the governor by Nov. 1, 2017.
Gov. Fallin Appoints Phil Campbell to Conservation Commission
Governor Mary Fallin today announced she has appointed Phil Campbell to the Oklahoma Conservation Commission. He will fill the Area II position, which serves central Oklahoma.
Campbell, a member of the Oklahoma County Conservation District board of directors, will begin serving at the Conservation Commission's July 10 meeting. He was appointed and confirmed last month.
Campbell grew up in Spencer on a small farm, where he helped his dad in the garden and had a small herd of Angus cattle. Agriculture was important to him and helped fund most of his high school activities. Soon after graduating high school, Campbell joined the Air Force; he traveled the world, but his heart was always on a farm in Oklahoma.
In 2015, shortly before his retirement, Campbell and his family bought 40 acres near Luther to begin developing the farm they had always dreamed of owning. Campbell wanted to make sure he was doing things the right way so he could achieve his goal of a small, yet productive farm. His brother, a game warden for the Oklahoma Department of Wildlife Conservation, suggested he talk to the Oklahoma County Conservation District to develop a conservation plan, as his brother worked with Don Bartolina, district manager, and Josh McNeff, with the Natural Resource Conservation Service, and knew they could offer advice.
Campbell is fairly new to the conservation family, only serving as a district director for a few months, but his willingness to learn, his commitment to conservation, and his enthusiasm led Trey Lam, executive director of the Conservation Commission, to discuss the possibility of him serving in a larger role as commissioner.
Campbell is confident his military background will help with budgeting issues and setting funding priorities. He said the commission makes a strong effort to get information out to cooperators, but thinks more work is needed to ensure more cooperators are aware of the variety of programs and benefits the commission and the 85 conservation districts across the state offer.
Gov. Fallin Appoints Richard C. Ogden as an Oklahoma County District Judge
Governor Mary Fallin today announced the appointment of Richard C. Ogden to fill the Office 11 district judge vacancy in Oklahoma County. He is replacing Barbara Swinton, who resigned last year after she was named to the Oklahoma Court of Civil Appeals.
Ogden's appointment is effective immediately.
Ogden, of Oklahoma City, has served the past two years as an Oklahoma County special judge. Before that, he served as an attorney in private practice for 25 years.
Ogden earned a bachelor's degree in political science from Oklahoma State University and a juris doctorate from the University of Oklahoma.
Gov. Fallin Appoints Howard Roy Haralson to Oklahoma County District Judge Position
Governor Mary Fallin today announced she is appointing Howard Roy Haralson as a district judge to fill the Office 3 district judge vacancy in Oklahoma County. He will replace Donald Deason, who died last year.
Haralson's appointment is effective immediately.
Harralson, of Oklahoma City, has been an Oklahoma County special judge since 2010. Before that, he worked 23 years as an attorney representing clients in civil and criminal matters.
Haralson earned an associate's degree from Utah Technical College, a bachelor's degree in sociology from Brigham Young University and a juris doctorate from Oklahoma City University.
Haralson and his wife, Cheri, have three children, Curt, Jessika and David.