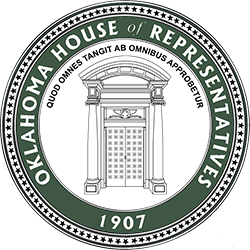 House and Senate commemorate Tinker's 75th Anniversary
The House of Representatives hosted Lt. Gen. Lee K. Levy, Air Force Sustainment Center Commander at Tinker Air Force Base and the senior ranking military member in the state, to mark the 75th anniversary of Tinker Air Force Base on Thursday.
Tinker Air Force Base was officially activated on March 1, 1942, with the name "Oklahoma City Air Depot." Later that year, the War Department named the depot installation Tinker Field in memory of Oklahoma native, Maj. Gen. Clarence L. Tinker.
The Air Force Sustainment Center is headquartered at Tinker Air Force Base and generates millions of dollars in contracts with small businesses in Oklahoma. It is the supply chain for all parts and equipment for the Air Force, supporting 5,000 aircraft, 14,000 engines, helicopters, missiles, support equipment and 65 foreign militaries.
In his current position, Lt. Gen. Levy ensures the center provides operational planning and execution for the Air Force supply chain management and depot maintenance for a wide range of aircraft, engines, missiles and component items in support of United States Air Force missions.
Roberts Honored Second Time by Oklahoma Veterans Council
Oklahoma Veterans Council Chairman Col. Pete Peterson bestowed the Legislator of the Year Award on state Rep. Dustin Roberts on Monday in the Oklahoma House of Representatives. The award was given largely for Roberts' authorship of and support of bills that increase services and support of the state's nearly 336,000 veterans.
Each year, the Oklahoma Veterans Council issues this award to a state representative and a state Senator who go above and beyond in their duties for veterans.
The House and Senate held a joint session Monday in observance of veterans' awareness.
Roberts is a veteran himself, serving in the United States Navy for five years. He completed three tours during the War on Terrorism. He was awarded two Navy Marine Corps Achievement Medals for his efforts in the Horn of Africa situation and again in Operation Iraqi Freedom. He was also awarded as the Blue Jacket of the Year and Junior Sailor of the Year.
In his acceptance speech, Roberts thanked the veterans in attendance on the House floor and in the gallery, as well as the families of veterans for their sacrifice and support while their family member is deployed. In addition, he thanked the Oklahoma Veterans Council on their guidance in helping to navigate the legislative process and for their willingness to be a voice for the veterans unable to come to the Capitol.
Roberts also thanked his wife, Lindsay Roberts, for allowing him to give countless hours of time away from his family to fight for veterans' rights and care.
Sen. Standridge praises parents and other supporters after State Board of Education approves Norman charter school
State Sen. Rob Standridge applauded the State Board of Education's decision Thursday to approve a proposed French immersion charter school in Norman. The concept for the charter school came about after the French immersion program at Reagan Elementary in Norman was cut. Parents of students who were thriving in the program worked tirelessly to continue the school's mission through a charter school, the Le Monde Internal School. Standridge was among those supporting the application.
"We are thrilled that LeMonde will become a reality, and I want to thank the State Board of Education, and especially the parents, teachers and other supporters throughout the community who have worked so hard to ensure this unique educational opportunity will continue to be available for Norman students," said Standridge, R-Norman. "Charter schools are a way to offer innovative approaches to educating our children in an environment that motivates and stimulates learning. This dedicated group of citizens worked for months to come up with one of the most innovative charter school ideas in the history of our state."
Standridge said the Norman community had embraced the proposed charter school, and said because of the passion and commitment of the parents of children involved in the Norman Public Schools French Immersion program, many more children would be able to benefit from the vision born at Reagan Elementary years before.
"So many people involved in education, including administrators, teachers and even parents will tell you without hesitation that much of the problem today with getting a child a solid education is the lack of parent involvement and commitment. LeMonde is an example of exactly the opposite. This school will become a reality because of the many parents, students and outstanding educators who became impassioned and involved to a degree rarely ever seen in common education today," Standridge said. "Approval of this unique charter school and the educational opportunities it will offer is a huge step forward for our students, our community and our state."
Gov. Fallin Announces Outreach for Veterans Pilot Program
Governor Mary Fallin today announced efforts to inform Oklahoma veterans about the Oklahoma Veterans Pilot Program, a private/public initiative to develop a comprehensive health care access and delivery system for the state's veterans.
A comprehensive outreach program will be spearheaded by the Force 50 Brigade and its two subgroups, Victory Company and the County Chairpersons Leadership Team.
The governor made the announcement as hundreds of veterans gathered at the state Capitol to take part in the annual Veterans Appreciation Day activities.
The Oklahoma Veterans Pilot Program, which was launched in September, is a private/public effort to develop a comprehensive transitional system of care designed to deliver accessible quality healthcare to veterans statewide. The system will cover healthcare services in mental health, home health, nursing care, rehabilitative services, and coordinated access to physician services, laboratory services, pharmacy services and tele-health capability.
The Force 50 Brigade, which is the primary public awareness organization of the Oklahoma Veterans Pilot Program, will consist of 50 well-known Oklahoma entertainers, sports figures and professionals from the film and music industries, as well as two critical subgroups, the County Chairperson Leadership Team and Victor Company. Victor Company is the Veterans Leadership Team and will consist of veterans organizations and leaders within the veterans community. As the most integral part of this effort, it has been mobilized first, and will be led by Pete Peterson and Scott Ellis, leaders of the Oklahoma Veterans Council.
The Victor Company members and organizations include:
American Legion
American Ex-POWs
Disabled American Veterans (DAV)
Fleet Reserve Association
Marine Corps League
Military Officers Assn. Of America
Nat'l Assn. of Black Veterans
Oklahoma Womens' Veterans Organization
Paralyzed Veterans of America
Mid-America Chapter
Rolling Thunder Oklahoma Chapter 1
Special Forces Oklahoma Chapter 32-50
U.S. Sub. Veterans, Inc., USS OKC Base
Veterans of Foreign Wars
Viet Nam Veterans of America
Gov. Fallin Calls Special Elections for State Senate District 44, House District 46 Seats
Governor Mary Fallin today ordered special elections to fill the vacancies in Oklahoma Senate District 44, caused by the immediate resignation of Ralph Shortey, and Oklahoma House District 46, caused by Rep. Scott Martin's decision to resign effective May 31.
The filing period for both special elections is May 1-3. The special primary election is set for July 11 and the special general election is scheduled for Sept. 12.
In the event a special primary election is not necessary, the special general election will be July 11.
Shortey, of Oklahoma City, and Martin, of Norman, both announced their decisions to resign last week.
Gov. Fallin Announces Oklahoma Tax Commission Appointment
Governor Mary Fallin today announced the appointment of former state Sen. Clark Jolley to the Oklahoma Tax Commission. He succeeds Dawn Cash, who resigned earlier this month.
Jolley's appointment to the Tax Commission requires confirmation from the state Senate. His term would expire Jan. 10, 2023.
Jolley, of Edmond, serves as an adjunct professor at Oklahoma Christian University and Mid-America Christian University. He served in the state Senate from 2004 until 2016, the last five years as chairman of the powerful Senate Appropriations Committee. He could not seek re-election because of 12-year legislative term limits.
Jolley earned two degrees from Oklahoma Baptist University, a law degree from the University of Oklahoma, and a certificate in public treasury management from the National Institute of Public Finance at Pepperdine University in Malibu, Calif.
He and his family make their home in Edmond, where his children attend Edmond Public Schools.