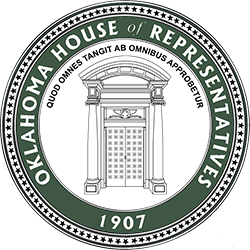 Cleveland congratulates Westheimer Foundation grant recipient
State Rep. Bobby Cleveland recognized grant recipient John Otto Tuesday on the floor of the Oklahoma House of Representatives.
The Jerome Westheimer Family Foundation awarded Otto a grant to produce a documentary about children of incarcerated parents. The film, titled "Children of Hope," is scheduled to be released in fall 2017.
Otto, a veterinarian out of Norman, helped establish dog training programs for inmates at the Mabel Bassett Correctional Center. He also works with inmates at the Lexington Assessment & Reception Center as part of the Friends for Folks program.
More than 25,000 children in Oklahoma have a parent who is incarcerated on any given day, according to the Institute for Child Advocacy.
Part of the film includes scenes from the Little Light Christian School in Oklahoma City. The tuition-free private school serves children with incarcerated parents. Little Light founder Robin Khoury was awarded a citation today by Cleveland.
Cleveland represents House District 20, which includes parts of Cleveland, Garvin, McClain and Pottawatomie counties.
Lawmakers Announce Veterans' Caucus
State Reps. Josh West and Kevin McDugle, along with other lawmakers, announced this week they are forming a joint House and Senate Veterans' Caucus.
McDugle said a veterans' caucus has been needed for a long time in the state.
West, an Army veteran, and McDugle, a Marine, said a number of the legislative colleagues are veterans of various branches of the military.
The veterans' caucus is scheduled to meet at least once a month to address future legislation and funding issues surrounding veterans programs.
Legislator's Concerns to Lead to Thousands in Cost Savings
The Oklahoma Department of Corrections (DOC) is set to realize potential cost savings as a result of the state's response to concerns raised by State Rep. Bobby Cleveland.
In today's meeting of the Government Modernization Committee, Oklahoma State Purchasing Director Ferris Barger told committee members that central purchasing officials are asking for a re-issuance of DOC purchasing contracts previously awarded by the State Use Committee.
The department shared concerns about the contracts with Cleveland, who used the occasion of a February Government Modernization purchasing hearing to share the issue with Barger. Following the February hearing Barger instituted the review and confirmed Cleveland's findings.
Barger said the re-issuance is expected to lower costs by 30 to 40 percent and provide thousands in savings.
In today's hearing, Barger told committee members that the state plans to institute new policies to ensure Use Committee contracts stay closer to market rates.
He also said that state officials could potentially institute claw-back provisions on behalf of the state agencies that are required to abide by Use Committee contracts.
State employees to benefit from new human resource system
State employees are set to benefit from a comprehensive transformation of the state's human resource management system.
According to state officials, the new system will provide the state with a real-time view of the state's human capital resources; allow for better strategic planning; and, enable employees to easily identify and promote to positions within state government — even though the open positions are within the purview of another agency.
These facts were provided to the members of the House Government Modernization Committee as part of their hearing this week.
Oklahoma's Director of Human Capital Management, Lucinda Meltabarger told committee members that the new unified system is expected to be in place by January 2018.
The initiative is a byproduct of the ongoing effort to bring state agencies together to modernize and share resources.
Afghan ambassador addresses State House and Senate to thank Oklahomans and their families for their service and sacrifice
Since 2003, nearly 6,000 Oklahoma members of the Army and Air National Guard have served in Afghanistan—that figure doesn't even include the active duty service members who've served there. On Wednesday that country's ambassador to the United States, Dr. Hamdullah Mohib spoke to the Oklahoma State House and Senate to say thank you to the troops, veterans and family members of those deployed to Afghanistan.
Mohib was urged to come to Oklahoma by Jane Horton—her husband, Army Spc. Christopher Horton was killed in Afghanistan. She accompanied the Ambassador to the Senate, along with Capt. Austin Bond, an Oklahoma guardsman who served with her husband.
Mohib said Oklahoma contributed the highest numbers of troops per capita in the United States. He said their service made a tremendous difference.
Three members of the Oklahoma State served in Afghanistan, and they were very appreciative of the Ambassador's remarks.
Oklahoma Selected for National Governors Association Learning Lab
Governor Mary Fallin today announced that the National Governors Association (NGA) has chosen Oklahoma as one of five states and territories to participate in a learning lab focused on alternatives to incarceration for justice-involved youth.
The five states and territories chosen to participate in the NGA's "Learning Lab on Alternatives to Incarceration for Justice-Involved Youth" are Oklahoma, Illinois, Kentucky, Louisiana and the Virgin Islands. The learning lab, which is funded by the Annie E. Casey Foundation, is an opportunity to learn about another state's successful and innovative solution to a specific problem.
Participating teams will study Virginia's recent reform efforts, and investigate alternatives to simply incarcerating juveniles. Strategies that will be explored include: limiting involvement of low-risk youth in the juvenile justice system; reducing unnecessary out-of-home placement; closing large residential facilities; implementing developmentally appropriate approaches; and expanding community-based alternatives to out-of-home placement.
The team from Oklahoma will be comprised of:
Tom Bates – Oklahoma Department of Human Services Special Advisor
Cary Cundiff – State of Oklahoma Budget Analyst
Honorable Judge Michael Flanagan (Associate District Judge Cotton County)
Rachel Holt – Oklahoma Assistant Attorney General
Tierney Tinnin – OJA Deputy Director of Communications
Melissa White – OJA Director of Education
The NGA Learning Lab on Alternatives to Incarceration for Justice-Involved Youth will take place April 11-12 in Richmond, Va.
Gov. Fallin Receives Notification of Assistance for Livestock Producers Affected by Wildfires
Governor Mary Fallin tonight announced she has received a letter from the U.S. Department of Agriculture (USDA) stating emergency loans are available to livestock producers in six Oklahoma counties where recent wildfires caused significant damage.
The letter, by USDA Acting Deputy Secretary Michael L. Young, states that eligible livestock producers in Alfalfa, Beaver, Ellis, Harper, Roger Mills and Woodward counties along with contiguous counties may apply for emergency loan assistance.
Emergency loans help producers who sustain qualifying farm-related losses directly caused by the wildfires. Farmers in eligible counties have eight months from the date of an Administrator's Physical Loss Notification to apply for this assistance.
In addition, Young wrote that eligible livestock producers may receive partial payments to help pay for rebuilding fence or replacing other items destroyed by the recent Oklahoma wildfires.
Normally, producers would have to wait until the work is completed to receive payment. Because some producers had more than 100 miles of fencing destroyed, it would be a financial hardship to wait until the rebuilding of fence is completed.
Emergency Conservation Program (ECP) funding may also be used for debris removal and restoring conservation structures damaged by wildfires. The USDA is also allowing the use of used oil piping for fence construction.
Young wrote in his letter that the Farm Services Agency (FSA) understands the financial burdens imposed on livestock producers due to the wildfires, "and it will use all available authorities to provide financial assistance to producers to rebuild fences and other conservation structures as quickly as possible."
In addition to ECP, farmers and ranchers suffering from the aftermath of the wildfires may also be eligible for the Livestock Indemnity Program (LIP) or the Emergency Assistance for Livestock, Honeybees and Farm-Raised Fish Program (ELAP). LIP provides payments to producers for livestock deaths. ELAP provides emergency relief to livestock producers when losses from a disaster are not adequately covered by any other disaster program.
In addition, Oklahoma producers affected by recent wildfires are being allowed to let their livestock graze on Conservation Reserve Program (CRP) acreage, Young wrote.
The FSA has authorized emergency use of CRP acreage, which will allow producers to move their livestock to CRP acreage for a period of up to 30 days for six counties in Oklahoma. The counties are Alfalfa, Beaver, Ellis, Harper, Roger Mills and Woodward.
Emergency use of CRP acreage allows livestock to be moved to those lands on a temporary basis for producers who lost pasture or fences due to the wildfires.
Producers in the affected counties are encouraged to check with their local FSA state office for additional information.
Gov. Fallin Announces GrowOK Venture Assessment Program
Governor Mary Fallin today announced that i2E, Inc., a nonprofit that assists Oklahoma's emerging small businesses, and seven state partners with the assistance of a $200,000 matching federal grant are taking a popular venture assessment program to rural Oklahoma and Native American entrepreneurs.
State partners include the Cherokee Nation, Choctaw Nation, Chickasaw Nation, Muscogee (Creek) Nation, Oklahoma Business Roundtable and the Oklahoma Center for the Advancement of Science & Technology (OCAST). Rural Enterprises of Oklahoma, Inc., is also a supporting partner. The U.S. Economic Development Association (EDA) awarded the grant in November.
Known as GrowOK, the program will debut this spring with a curriculum designed especially for rural communities and Native American entrepreneurs.
The governor said the initiative is an innovative step in diversifying the state's economy in rural areas as well as its urban centers.
The GrowOK curriculum will challenge rural and Native American entrepreneurs to identify their customers and determine whether their concept solves a true market need, said Scott Meacham, i2E's president and chief executive officer.
i2E provides business advisory services and investment capital to high-growth startups across Oklahoma.
i2E has provided its Venture Assessment Program as an intensive three-week course at its Tulsa and Oklahoma City offices since 2015, helping scores of entrepreneurs validate their business concepts and reach out to potential first customers.
The first GrowOK class is expected to launch next month in Ada.
For i2E's tribal partners, the GrowOK program provides another tool for their small business development organization to bring in outside expertise and as a business growth opportunity for their members.
i2E was one of 35 nonprofits, institutions of higher education and entrepreneur-focused organizations from 19 states across the nation that were awarded a total of $15 million to create and expand initiatives to support entrepreneurship.
The $199,749 grant awarded to i2E was from among a pool of more than 215 applicants nationwide as part of the EDA's Regional Innovation Strategies Program (RIS).
Gov. Fallin Issues Statement on Trump Administrations Grazing Directive
Governor Mary Fallin today issued the following statement after the U.S. Department of Agriculture (USDA), acting in response to a directive from President Donald Trump, authorized emergency grazing on Conservation Reserve Program (CRP) lands in Oklahoma as a result of wildfires that devastated parts of northwest Oklahoma:
The USDA action is required to direct the Farm Service Agency (FSA) to permit the grazing on lands covered by the CRP, which exists to conserve and improve wildlife resources. The authorization is pursuant to appropriate restrictions and conservation measures.
Damages are expected to grow, but the USDA estimates that in Beaver, Ellis, Harper, Roger Mills, Woodward and Woods counties in Oklahoma:
389,533 acres burned.
3,000 head of cattle died.
Structure losses were $2 million.
Destroyed fencing exceeds $22 million.
Governor Mary Fallin Announces 400 New Jobs from MedXM Expansion
Governor Mary Fallin today announced that Mobile Medical Examination Inc. (MedXM), a national leader in the design and implementation of preventive care technology and in-home health risk assessments, will be expanding into Oklahoma City to house additional support for MedXM outreach initiatives.
The Oklahoma City outreach center plans to provide 400 full time jobs over the course of five years. This expansion will help strengthen MedXM's mission to provide exceptional member service and quality home health visits across the nation for the purpose of care management, education, prevention, and early detection.
About MedXM
Since 1990, MedXM has been a national leader in the design and implementation of preventive care technology and in-home health risk assessments for the purpose of care management. MedXM offers a complete network of connections between members, their health plan and providers. MedXM is focused on delivering risk adjustment and quality solutions by providing clients with fully customizable options to fulfill specific needs.