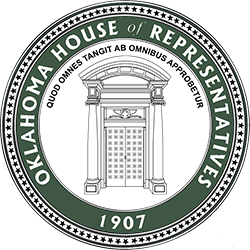 Blue Lives Matter Bill Passes House
OKLAHOMA CITY – A bill that would increase the likelihood of the death penalty for people convicted of killing a law enforcement officer in the line of duty passed the House with a vote of 73-21 Wednesday.
House Bill 1306, by State Rep. Casey Murdock, creates the Blue Lives Matter in Oklahoma Act of 2017, which provides that any person convicted of, or who pleads guilty or nolo contendere to murder in the first degree of a law enforcement officer, correctional officer or corrections employee while in the performance of their duties shall be punished by death or life in prison without parole.
Murdock said he was inspired to write this legislation after the tragic events that occurred in Dallas and around the country, where snipers were shooting at law enforcement. He also told a personal story of a friend whose son-in-law was shot and attacked in the line of duty.
Murdock worked with several other representatives to make sure the bill was constitutional yet still firm when it comes to dealing with criminals. The bill makes it harder to just get a life in prison sentence. Punishment would be either death or life without parole. The bill also requires that an overwhelming amount of mitigating evidence be shown for those convicted to just be given a life sentence.
The bill now moves to the state Senate.
Education Leaders Endorse $110 Million Education Funding Boost from Budget Leader's Bill
OKLAHOMA CITY – The House of Representatives has passed a bill endorsed by education leaders that increases the Oklahoma Lottery's contribution to education by $110 million over the next five years.
House Bill 1837, by House Appropriations Chairwoman Leslie Osborn and Senate Appropriations Chairwoman Kim David, passed the House on Tuesday and now moves to the Senate.
The bill was endorsed Monday by the Oklahoma Education Coalition, which consists of:
Oklahoma City Public Schools

Tulsa Public Schools

United Suburban Schools Association

Organization of Rural Oklahoma Schools

Oklahoma State School Boards Association

Cooperative Council of Oklahoma School Administration

Oklahoma Education Association

Tulsa Classroom Teachers Association

Oklahoma Association of Career and Technology Education

Oklahoma Parents and Teachers Association
HB 1837 is modeled after successful lottery changes in other states. It sends more lottery revenue to education by letting the lottery increase payouts to offer more prizes that improve lottery sales and ultimately send more money to public schools.
The Oklahoma Lottery has sent more than $750 million to education since it began in 2005, but its performance has declined because of an ineffective profit requirement that would be replaced under HB 1837. Lottery contributions to education next year are expected to be 30 percent lower than ten years ago. If HB 1837 is not passed, the Oklahoma Lottery projects declines will continue and education will lose a combined $25 million in lottery funding over the next five years.
To prevent that decline, HB 1837 makes the lottery more profitable and increases common education's lottery funding through three steps: 
Guarantee at least $50 million in lottery revenue for education every year.

Send profits above $50 million to specific K-12 public school initiatives.

Improve sales and lottery revenue to education by ending the counterproductive mandate that 35 percent of profits go to education.
Under HB 1837, initiatives in reading and science, technology, engineering and math (STEM) would receive $85 million over the next five years.
In total, HB 1837 sends a $110 million boost to education by preventing the $25 million decline that is expected without the bill and sending the projected $85 million to reading and STEM programs.
House Advances Teacher Pay Raise Plan
Plan would boost Oklahoma teacher pay to first in the region
OKLAHOMA CITY – The Oklahoma House of Representatives today overwhelmingly advanced a plan to the Senate that would phase in a $6,000 teacher pay raise over three years and boost Oklahoma teachers to some of the highest paid in the region.
House Bill 1114, by state Rep. Michael Rogers, chair of the House Common Education Committee, would include a $1,000 pay raise for teachers during the 2017-18 school year, another $2,000 raise during the 2018-19 school year and a final $3,000 raise during the 2019-20 school year.
Rogers said the phased-in approach would allow the Legislature to manage the current revenue downturn while keeping its promise to boost pay for teachers. Every $1,000 increase in teacher pay would cost approximately $53 million, said Rogers.
Oklahoma already has the third-highest statutory starting minimum teacher pay in the region. Rogers' plan would raise Oklahoma teacher pay from 48th in the nation to 27th based on recent data from the National Education Association (NEA). When paired with the state's low cost of living, the plan would move Oklahoma to 13th in the nation for average annual teacher pay at $56,804 (adjusted for cost of living). Oklahoma's cost of living ranks behind only Mississippi for the lowest in the nation.   
House Speaker Charles A. McCall supports Rep. Rogers' plan.
House Bill 1114 passed out of the House by a vote of 92-7 and now heads to the Senate for consideration.
Victim Notification Bill Passes House 
OKLAHOMA CITY – Legislation that looks to give victims clear and proper notification regarding the release of an offender has unanimously passed the House with a vote of 87 to 0.
House Bill 1680, authored by House Speaker Pro Tempore Harold Wright, would require the department of corrections to notify victims through the Victim Information and Notification Everyday service within 60 days and no less than seven days prior to an offender leaving state custody.                                                   
The proposed law change would also reorganize the notification system so that the responsibility of notifying victims would fall on the department of corrections. The legislation also requests assistance from the Oklahoma Court of Criminal Appeals in giving notification of the pending release of its opinions where the outcome may affect a victim or a victim's family.
Bill easing access to eye drop medication refill clears House
OKLAHOMA CITY – A bill amending refill procedures for certain medications passed unanimously Tuesday out of the Oklahoma House of Representatives with a vote of 92 to 0.
House Bill 1819 by state Rep. Carl Newton, an optometrist, prohibits an insurance company from denying refill requests for eye drops after using 70 percent of the prescription.
The legislation also prohibits a health benefit plan that covers prescription eye drops from denying coverage for a refill prescription when the prescription indicates that more is needed, the refill does not exceed the additional amount needed, and the prescription is covered.
HB1819 now proceeds to the Senate for consideration, where state Sen. Stephanie Bice, R-Oklahoma City, is the author.
Newton represents House District 58, which includes parts of Alfalfa, Major, Woods, Woodward counties.
Bill scaling back corporal punishment for students with disabilities passes House
OKLAHOMA CITY – Legislation prohibiting school district personnel from using corporal punishment on certain students passed unanimously Monday out of the Oklahoma House of Representatives with a vote of 89 to 0.
House Bill 1623, or the "Bryan Young Act," protects students with disabilities from corporal punishment unless addressed in an annual Individualized Education Program (IEP). Young was a Norman-based attorney who regularly advocated for students with IEPs.
In districts where corporal punishment is currently allowed, most require parents sign a handbook at the beginning of each year permitting school personnel to use corporal punishment when necessary. This legislation exempts students with physical disabilities from being corporally punished unless it is allowed in the student's IEP.
HB 1623 now proceeds to the Senate for consideration, where state Sen. Rob Standridge, R-Norman, is the author.
Cleveland represents House District 20, which includes parts of Cleveland, Garvin, McClain and Pottawatomie counties.
House Judiciary- Criminal Justice & Corrections Committee Approves 5
OKLAHOMA CITY – The fourth hearing for the 56th Legislature's House Judiciary – Criminal Justice & Corrections Committee took place Wednesday.
This past meeting marked the last time the committee, chaired by Rep. Scott Biggs, will be able to consider new legislation authored by members of the House. During the meeting, five new pieces of legislation were passed and are now eligible to be heard on the House Floor.
House Bill 1127, authored by Rep. Biggs, is legislation that would require the court to instruct the jury on the definition of "consent" in any criminal jury trial that involves "sexual assault". The bill passed committee by a vote of 9 to 0.
House Bill 1324, authored by Rep. Justin Humphrey, is legislation that would remove the ability of the court to order a presentence investigation be conducted on any convicted felony offender prior to the court imposing a term of incarceration. The measure increases the maximum fee amount that the court may order the defendant to pay for a presentence investigation from a maximum of $250 to a maximum of $500. The bill passed committee by a vote of 10 to 1.
House Bill 1472, authored by Rep. Travis Dunlap, is legislation that would create the Human Trafficking and Child Exploitation Prevention Act. The measure requires a service provider, upon request of the consumer, to filter content to prevent the transmission of obscene material to the consumer. The bill passed committee by a vote of 11 to 0.
House Bill 2281, authored by Rep. Terry O'Donnell, is legislation that contains the Governor's Justice Reform Task Force recommendations relating to unlawful delivery of goods, false impersonation, credit or debit card crimes, forged instruments or coins, larceny of lost property, theft of aircraft, automobile or construction equipment and theft of a controlled dangerous substance.. The bill passed committee by a vote of 11 to 0.
House Bill 2290 is legislation that contains the recommendations of the Governor's Justice Reform Task Force regarding the use of drug and mental health courts. The bill passed committee by a vote of 9 to 2.
Of the several bills that were assigned to committee, 26 bills received hearings and were approved to be heard on the House Floor. The committee worked to accommodate all bill filers, but some issues could not be worked out in time for all bills to be heard. However, the majority of bills not heard were removed from the committee by the bill author.
Governor Mary Fallin Declares State of Emergency for 22 Counties Due to Wildfires, Critical Fire Conditions
OKLAHOMA CITY – Governor Mary Fallin today issued an executive order to declare a state of emergency for 22 counties due to ongoing wildfires and critical fire weather conditions.
The counties included in the governor's declaration are: Alfalfa, Beaver, Blaine, Cimarron, Custer, Dewey, Ellis, Garfield, Grant, Harper, Kay, Kingfisher, Logan, Major, Noble, Osage, Payne, Pawnee, Roger Mills, Texas, Woods and Woodward.
Estimates show between 200,000 and 300,000 acres have already burned in Beaver, Harper and Woodward counties alone, where dangerous fire conditions are expected to continue tonight and tomorrow.
Under the executive order, state agencies can make emergency purchases and acquisitions needed to expedite the delivery of resources to local jurisdictions. It is also the first step toward seeking federal aid should it be necessary.
The executive order is in effect for 30 days and could be amended to include additional counties if conditions warrant.
Governor Mary Fallin Signs Measure Approving New Report on Assessments, Accountability System for Public Schools
OKLAHOMA CITY – Governor Mary Fallin today signed House Joint Resolution (HJR) 1028 to approve the assessment and accountability report recommendations required by legislation (House Bill 3218) passed and signed into law last year.  The key components of the report include recommendations for new assessments for Grades 3-8 and for high school students as required by the federal government, as well as a study of an enhanced accountability system.  In addition, the report contained recommendations on graduation requirements, and remediation and interventions.
Governor Mary Fallin Approves Shawnee Tribe's Proposal to Build Casino near Guymon
OKLAHOMA CITY – Citing a remedy to help with economic development and self-determination, Governor Mary Fallin today announced she has concurred with the findings of a federal agency giving permission to the Shawnee Tribe to build a casino near Guymon.
In 2000, U.S. Sen. Jim Inhofe succeeded in winning congressional approval of a measure called the Shawnee Act, which restored the tribe's federal recognition and gave the tribe the right to secure land essential to its economic well-being as long as that land is outside the assigned lands of other Oklahoma tribes.
The history of Shawnee migration in response to western expansion can be traced to the 1700s. Relocating to eastern Kansas on a 1.6 million-acre reservation in the early 1860s, the tribe's land holdings were reduced over the years by the federal government.*
The U.S. Bureau of Indian Affairs earlier determined putting the land into trust would be positive for the Shawnee Tribe and the Panhandle community. The governor's review and decision was the next step in the two-part determination process.
The proposed Golden Mesa Casino to be built southwest of Guymon would create about 175 jobs and produce an annual payroll of about $3.7 million, according to Shawnee tribal officials. The proposed casino is seen as an entertainment and destination point.
The Shawnee Tribe is a landless tribe.  Having a unique history, the Shawnee Tribe was assigned no jurisdictional land of its own and operates within the territory of another tribal government. Because of this unique history, Congress enacted the Shawnee Status Act in 2000, which enabled the tribe to begin a process of growth and recovery.
In the past, the federal government has generally required tribes to build casinos on their own reservations or — in states like Oklahoma where tribes don't have reservations — within their tribal jurisdictional areas.
Plans call for building a $25 million casino called the Golden Mesa Casino that would include a restaurant on 107 acres about 4 miles southwest of Guymon. The tribe is expected to partner with Global Gaming Solutions, the gaming division of the Chickasaw Nation, with Global Gaming serving as the management company for the project, which has a projected economic impact of $32 million.
Upon approval of the tribe's fee to trust application, the tribe will initiate the process for adopting Oklahoma's model tribal-state Class III gaming compact, which will ultimately provide increased funding for education. 
Governor Mary Fallin Appoints Dr. Kelvin Droegemeier as Secretary of Science and Technology
OKLAHOMA CITY – Governor Mary Fallin on Thursday announced that Dr. Kelvin Droegemeier, vice president for research at the University of Oklahoma (OU), will be joining her Cabinet as secretary of science and technology. Droegemeier will begin serving on Monday.
Droegemeier is a Regents' professor of meteorology, Weathernews chair emeritus, and Teigen presidential professor at OU. He currently serves on Fallin's Science and Technology Council, chairing the academic research and development subcommittee.
Fallin said Droegemeier's extensive background in science and technology, as well as in government, as a key reason for his selection.
Droegemeier co-founded the National Science Foundation (NSF) Science and Technology Center (STC) for Analysis and Prediction of Storms (CAPS), which is today recognized around the world as the pioneer of storm-scale numerical weather prediction. He also co-founded the NSF Engineering Research Center for Collaborative Adaptive Sensing of the Atmosphere (CASA), and served on the National Science Board under both President George W. Bush and President Barack Obama. He is a Fellow of the American Meteorological Society and the American Association for the Advancement of Science, and, under then-Governor Brad Henry, he chaired the Weather and Climate Team for the EDGE (Economic Development Generating Excellence) Program.
Droegemeier earned a B.S. with special distinction in meteorology from OU, and M.S. and Ph.D. degrees in atmospheric science from the University of Illinois at Urbana-Champaign. He joined OU in 1985 as an assistant professor of meteorology. He and his wife, Lisa, reside in Norman.