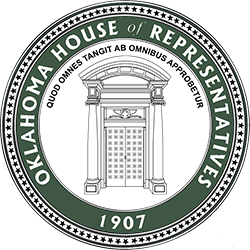 House Speaker McCall Appoints Rep. Hall to Chair Business and Tourism Committee
Oklahoma House Speaker Charles McCall today named state Rep. Elise Hall as chair of the House Business, Commerce and Tourism Committee.
Rep. Hall previously served as vice chair of the Business Committee and had recently been appointed as a member of the committee for the 56th legislative session. Hall also serves as an assistant majority whip, as vice chair of the House Republican Caucus and as vice chair of the House Appropriations and Budget Subcommittee on Select Agencies. In addition, she is a member of the House Rules Committee and the House Judiciary Committee on Civil and Environmental Laws.
Republican Legislator Opposes Tax Increases
State Rep. Kevin Calvey today stressed that no tax increases are necessary in order to balance the state's budget. The remarks came in response to Gov. Mary Fallin's State-of-the-State address in which she called for several tax increases.
In common education, he pointed to the over 500 school superintendents as an area where costs could be saved. State reporting to the U.S. Department of Education shows that the majority of public school employees are not teachers.  Reducing non-teacher positions would save the state another $255 million, at least.
Critics of the wind subsidies have long argued that most of Oklahoma's subsidies to wind companies go to out-of-state companies, and over 30 percent go to companies in foreign countries, and the subsidies create very few jobs given the huge cost to taxpayers.
State House Committee to Review Oklahoma's IT Security Preparedness
State Reps. Jason Murphey and Tom Gann announced that on Wednesday the members of the House Government Modernization Committee are set to take testimony regarding Oklahoma's cybersecurity position.
Officials from the state's unified Information Technology group will update committee members about the efforts to protect state and local government technology assets.
In the past, these officials have described the ongoing attacks on government IT infrastructure from attackers both within and outside of the United States.
Government Reform Proposals Advancing Quickly
The House Government Modernization committee is moving quickly to advance an agenda of increasing government transparency and cutting costs to Oklahoma taxpayers.
During their first meeting of the legislative session, held earlier today, the committee approved numerous modernization, efficiency and transparency measures.
Initiatives approved today include legislation by House Floor Leader Jon Echols to sunset state agencies. His House Bill 1461 seeks to duplicate the work of the innovative Texas Sunset Commission. He believes it will be an effective tool for shrinking the size of Oklahoma state government.
Freshman state representative and committee member Mike Osburn is wasting no time in advocating for new efficiencies. Osburn's House Bill 1234, his first to win committee approval, allows for the digitization of paper documents. Once digitized, government entities will be relieved from the significant cost of warehousing the millions of old documents.
Rep. Chuck Strohm won approval for his proposal to give the public better purview of school district finances. His House Bill 1509 makes school district financial documents available for online access.
House Bill 2248 by Rep. David Brumbaugh creates an "open records one stop shop" through which members of the public will request public records without having to navigate the maze of varied state government bureaucracies which currently oversee these requests.
Freshman Rep. Avery Frix won approval for his first bill, House Bill 1599, a needed modernization of the bonding requirements on public construction contracts.
The approved modernization bills now await consideration by the entire House.
HB 1013 would allow more nurse practitioners to work in Oklahoma
By a 12-2 vote, the House Business, Commerce and Tourism Committee on Wednesday approved a measure that aims to increase the number of nurse practitioners working in Oklahoma and improve access to health care services, particularly in rural areas.
House Bill 1013, by Rep. Josh Cockroft, R-Wanette, and Sen. AJ Griffin, R-Guthrie, would grant nurse practitioners and advanced practice registered nurses full practice authority, allowing them to provide health care services consistent with their education and training without a collaborative agreement with a physician.
Nurse practitioners report that the collaborative agreements can cost them thousands of dollars each month even though little or no collaboration occurs. In addition, a physician can only sign agreements with two nurse practitioners, limiting the number who can work in the state.
According to the most recent Oklahoma Health Workforce Databook compiled by the Oklahoma State Department of Health, 64 of Oklahoma's 77 counties are designated as primary care Health Professional Shortage Areas (HPSAs). More than 58 percent of Oklahomans live in a primary care HPSA. The state also ranks 49th in physician-patient ratio.
Cockroft pointed out that nurse practitioners have full practice authority in other states and in U.S. Department of Veterans Affairs facilities across the country.
HB 1013 will move on to be considered by the full House of Representatives.
State Cyber Command Responding to New Threats Against State Information Technology Assets
The Director of Oklahoma's Information Technology Cyber Command told an Oklahoma House of Representatives' committee today that it is adapting to protect state information technology assets against a new wave of cyber-attacks and crime.
The Government Modernization Committee was told that in 2016 Cyber Command protected state government assets from 32,333 cases of unique malware, 762 instances of malicious activity, 392 occasions of unauthorized access and two denial-of-service attacks.
Cyber Security Director Mark Gower explained that Cyber Command has created a specific playbook for dealing with an increase in a new attack vector – newly-developed ransomware that locks up state computers and makes them inaccessible until ransom has been paid.
Gower explained that the state's ongoing information technology unification effort and its Security Operations Center is providing an increased visibility into these ransomware attacks, and they are using the Center to deter the attacks before they can occur. He said that not a single unified state agency has been forced to pay ransom to the attackers. Gower assured committee members that it is the policy of the Security Operations Center to never pay ransom.
Committee members did discover that a non-unified state government entity appears to have been forced to pay the ransom. The non-unified entities do not benefit from the same protection levels as the entities, and the policies and protocols of the Security Operations Center do not apply to them.
State IT officials have assured committee members that they intend to complete the IT unification by the end of the fiscal year and extend the security protect to the non-protected state agencies.
Crime bill passes through committee with bipartisan support
Legislation that seeks to consider all rape by instrumentation as rape in the first degree has passed its first hurdle to becoming law after the House Judiciary – Criminal Justice & Corrections Committee unanimously voted to approve the measure.
House Bill 1005 is the second piece of legislation written by Rep. Scott Biggs that attempts to strengthen Oklahoma's rape laws. The first, House Bill 2398, was passed during the 55th Oklahoma Legislature and signed into law by Gov. Mary Fallin last June.
The legislation passed through committee with a bipartisan 12-0 vote.
Biggs, an assistant majority floor leader, represents House District 51, which is comprised of Grady, McClain and Stephens counties. He is also the chair of the House Judiciary – Criminal Justice and Corrections Committee.
Senate President Pro Tempore Mike Schulz comments on governor's State of the State address
"I commend Governor Fallin on a speech that discussed her vision of how to build a stronger Oklahoma. My colleagues in the Senate and I look forward to learning more about her budget proposals and other policy goals as the session moves forward. Senate Republicans have a shared commitment to putting Oklahoma on a sustainable, long-term path to success. The Senate Republican agenda lays out our vision of how to build a more prosperous state. It begins with growing the economy, investing in our students and teachers, and ensuring our state's health and safety. We look forward to working with the governor on those common goals that will help us make the great state of Oklahoma an even better place to live, work and raise a family."—Senate President Pro Tempore Mike Schulz, R-Altus.
Lawmakers introduce bill to ignite investment in Oklahoma
Sen. Kyle D. Loveless (R-Oklahoma City) and Rep. Jon Echols (R-Oklahoma City) have introduced legislation to spark a new wave of investment in Oklahoma-based start-up companies.
SB 412 allows an investor in a qualified, Oklahoma-based start-up company to offset some of the tax liability on their return should the investment be profitable. The bill, known as the Ignite Oklahoma Act, requires the investment be made in a new start-up company with limited capital and be primarily housed in Oklahoma. If the company is profitable, the investor is able to apply the tax credit to off-set up to 55% of the tax liability generated from that specific investment.
The Ignite program differs from those in the past because the credit is redeemable on the back end of the investment; once measurable economic growth has positively impacted the economy. If the company fails, the investor is unable to use the credit because the investment generated no tax liability. Additionally, this credit can only be used against tax liability directly related to the investment, not against any other.
SB 412 has received support from the business community.
Oklahoma ranked 46th in the country for innovation potential in 2016 according to WalletHub. This ranking is due in large part to limited venture-capital funding and entrepreneurial activity.
The legislative session began Monday, Feb. 6.
Senate Judiciary Committee Moves on Slate of Judicial Reforms
The Senate Judiciary Committee Tuesday approved a series of bills aimed at reforming the judiciary, including a series of legislative referendums that would reshape the way judicial appointments are made.
Sen. Anthony Sykes, chairman of the Senate Judiciary Committee, was author of several of the judicial reform bills.
Among the measures authored by Sen. Sykes:
Senate Joint Resolution (SJR) 42, which, if approved, would allow voters to decide whether to change the Oklahoma Constitution to require a partisan election of Supreme Court justices and Court of Criminal Appeals justices.
SJR 43, if approved, would allow voters to decide whether to amend the judicial appointment process to model the federal system. Under this proposal, the governor would nominate candidates to fill judicial vacancies and the Oklahoma Senate would confirm or deny the governor's appointment. The Judicial Nominating Commission (JNC) would rate the governor's judicial nominees as either "qualified" or "not qualified."
SJR 44, if approved, would allow voters to decide whether to amend the Constitution to modify the judicial nominating process. Under this proposal, the JNC would provide the governor with five qualified nominees to fill a judicial vacancy, instead of the current recommendation of three nominees. The governor would be allowed to reject those nominees and request five new nominees. The governor would then select one nominee, whose name would be forwarded to the Oklahoma Senate for confirmation.

Additionally, the Senate Judiciary Committee approved the following measures:

SB 699, by Sykes, would require all appellate justices and judges to retire when their combined age and years of service equaled 80.
SB 700, by Sykes, which allows the President Pro Tempore of the Oklahoma Senate and Speaker of the Oklahoma House to appoint three attorney members each to the JNC board.
SB 702, by Sykes, which adjusts the counties included in the Supreme Court judicial districts.
SB 708, by Sykes, which requires a district judge to have served as lead counsel in at least three jury trials before being elected or appointed to serve on the bench.
SJR 14, by Sen. Nathan Dahm, R-Broken Arrow, would allow Oklahoma voters to decide whether to amend the Constitution to require 60 percent of voters approve the retention of a judge.
SB 213, by Dahm, which would change the boundaries of Supreme Court judicial districts to correspond with the number of congressional districts in Oklahoma plus adding at-large positions.
Senate committee approves bill for construction of Health Lab
The Senate Appropriations Committee approved legislation Wednesday to construct a new state health lab. Sen. Kim David, R-Porter, is the author of Senate Bill 236 to authorize the Oklahoma Capitol Improvement Authority to issue nearly $59 million in bonds for the construction of the new facility.
David said the lab has faced losing its accreditation since 2008, which would be detrimental and extremely costly for the state, and this year the legislature must act.
Built in 1972, the Health Lab is one of the oldest in the nation. Numerous assessments by the Association of Public Health Laboratories, the College of American Pathologists and other organizations since 2008 have concluded that the facility is outdated and not capable of supporting technically advanced work. The building is also prone to flooding and has an unreliable heat and air system that can negatively impact tests performed on site.
In 2015, the Long Range Capital Planning Commission identified $349 million in total critical capital needs and the health lab was at the top of the list.
The Department of Health estimated the cost of a new 49,000 square-foot lab would be $40 million in 2009. Today, they estimate the cost will require a 20-year bond for $58.5 million.
David pointed out that the use of bond financing for the project will not increase the state's debt as nearly half the state's tax-backed bond debt will be paid off by 2020.
Gov. Fallin Delivers 2017 State of the State Address
Governor Mary Fallin today delivered the annual State of the State Address in front of a joint session of the Oklahoma Legislature. In it, Fallin focused on the urgent need to improve the state's budgeting process to ensure that legislators can adequately fund priority goals related to education, public safety, health and the state's infrastructure needs. Her State of the State Address can be found here. The proposed Executive Budget for Fiscal Year 2018 can be found here. 
Modernizing Oklahoma's tax laws
Fallin told lawmakers she is proposing a bold series of reforms to modernize the state's tax laws and ensure new growth in years to come. These reforms will also ensure Oklahoma has the flexibility to prioritize spending as new needs emerge.
"This plan eliminates the most regressive tax on the books today, the state sales tax on groceries. This will benefit all Oklahomans. Eliminating the state sales tax on groceries is expected to result in annual savings of between $350 to $676 for a family of four.
"It also gets rid of one of the most volatile sources of revenue – the corporate income tax. It will reduce the paperwork and red tape burden of many small businesses in our state and boost economic development. Eliminating this tax provides more transparency as it also eliminates the need for the Legislature to pick winners and losers with specific tax credits." – Governor Mary Fallin 
The governor said that when the Legislature many decades ago first contemplated the sales tax laws to boost revenues, the economy depended on the manufacture and sale of goods. As the economy in the United States has shifted from a manufacturing-based economy to a services-based economy, the way we impose taxes and collect revenue no longer reflects the current economy, but an outdated system that has not changed much since its inception.
"By expanding the sales tax base, this allows us to eliminate the state sales tax on groceries and the corporate income tax. And it may be possible in the future to further lower the sales tax rate." – Governor Mary Fallin
Calls on lawmakers to approve teacher pay raise
Fallin, for the second year in a row, challenged lawmakers to approve a pay raise for public school teachers.
"A thriving, prosperous economy must have a skilled, educated workforce. That starts with good teachers in the classrooms providing our children a quality education FIVE days a week. And my budget provides both.
"In a recent meeting I hosted with major national site selection companies, an executive asked me how he could persuade businesses to come to Oklahoma when some of our schools have four-day education weeks. We must have five-day school weeks.
"Let's act on a permanent pay raise for our public school teachers.  It is what the public and families want. The pay raise may need to be phased in and it may be targeted, but it must be done." – Governor Mary Fallin
But the governor said a pay raise alone will not improve student outcomes. Administrative inefficiencies must be addressed.
"We have a very top-heavy system that needs to be reformed to provide teachers and students more resources. The state already provides a number of services that schools could voluntarily take advantage of to save money, such as IT services, purchasing and bonding assistance.
"In addition, I am creating a task force to review the state education funding formula, evaluate funding sources, and analyze the K-12 system footprint. Just as we must fix our own state budget structural issues, we must do the same with the K-12 education system.
"Our education system must be focused on creating the best outcomes. To do so, we must ensure more money goes to our classrooms and teachers. We must empower students and parents by giving them more choices so they can best address their own needs." – Governor Mary Fallin
Personal consumption tax on cigarettes
Fallin again asked legislators to raise the cigarette tax.
"To improve the health of our state, I'm also once again asking you to raise our cigarette tax.   Smoking remains the Number One preventable cause of death in Oklahoma. It costs our state $1.62 billion in health care costs. The revenue raised can be spent on current health care needs." – Governor Mary Fallin
Directing gasoline and diesel tax revenue goes to roads and bridges
The governor said her reform plan calls for gasoline and diesel fuel taxes to go roads and bridges
"My plan will ensure taxes associated with roads and bridges are the funding source for maintenance of roads and bridges – period, returning individual income taxes to the General Revenue Fund. This plan does not impact the projects in the Department of Transportation's 8-year plan.
"Oklahoma currently ranks 48th in diesel tax in the nation and 49th in gasoline tax. I am proposing a new revenue stream by increasing our gas and diesel taxes to the regional state average, but still below the national average.
"As we've discussed for decades, let's put the fuel taxes into roads and bridges." – Governor Mary Fallin
Criminal justice reforms
Fallin asked lawmakers to invest in ways to be smarter on crime and tough on true criminals.
"It's no secret our prison population is in a crisis with over 61,000 people under the jurisdiction of corrections. Our prisons are way over capacity, and our prison population is expected to grow by 25 percent in the next 10 years.
"Oklahoma's overall incarceration rate is the second-highest in the country. We lead the nation in female incarceration – incarcerating women at two and a half times the national average." – Governor Mary Fallin
Without reform, Oklahoma must build or lease three new prisons. The governor created the Oklahoma Justice Reform Task Force to find data-driven, smart-on-crime policies to focus on improving public safety.
"Seventy-five percent of new admissions in prison are nonviolent offenders. The number of drug-possession offenders sentenced to prison with no prior convictions has more than doubled the last five years. My budget includes new money for corrections and treatment, which includes a $50 million bond issue to build wings on a men's and a women's prison for substance abuse offenders and rehabilitation." – Governor Mary Fallin
Other highlights
The governor, during her speech, recognized seven Oklahoma Highway Patrol troopers who apprehended a killer last fall in a rural area in Custer County. They were troopers Brian Costanza, Chris Hanover, Trenton Keasler, Brandon Seward and Micah Whittington along with helicopter pilots Capt. Brian Sturgill and Cole Patterson.
Fallin also said the state's crumbling infrastructure should no longer be ignored. She has identified Oklahoma's most urgent, pressing infrastructure needs along with a bond proposal to address them. They include a new Department of Health lab, which is needed for accreditation, and improving facilities for corrections, mental health and juvenile affairs.
Gov. Fallin Names Patrick Wyrick to Fill Vacancy on Oklahoma Supreme Court
Governor Mary Fallin today named Patrick Wyrick to serve as a justice on the Oklahoma Supreme Court.
Wyrick, 35, succeeds Steven Taylor, who retired from the bench last year.
Wyrick has served as solicitor general in the Oklahoma attorney general's office since 2011. As solicitor general, Wyrick represented the state of Oklahoma before the U.S. and Oklahoma supreme courts, and other federal and state courts. He also authored attorney general opinions and served as a key legal adviser to a variety of state officials.
The Supreme Court appointment is Fallin's first on the nine-member court.
Supreme Court justices serve on the court as long as they are able and must appear on the ballot and be retained by voters every six years, according to state statute.
Fallin selected Wyrick from three applicants submitted to her by the Oklahoma Judicial Nominating Commission. The governor must choose from those three.
Applicants had to be 30 or older and a practicing attorney or judge for at least five years.
Wyrick, a fourth-generation Atoka native, has deep ties in the 2nd Judicial District, and has remained involved in the family business, Wyrick Lumber Co., which has locations in Atoka and Hugo.
Wyrick earned his bachelor's degree in sociology/criminology from the University of Oklahoma and his juris doctorate from OU's college of law.
Before joining the attorney general's office, Wyrick worked as an associate attorney at the law firm of GableGotwals and as a law clerk to Judge James Payne in the U.S. District Court of Eastern Oklahoma in Muskogee.
Wyrick and his wife, Jamie, have three children, twins Cole and Carter, and Claire.