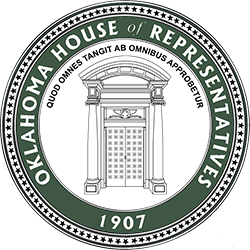 Gov. Fallin Declares State of Emergency
Governor Mary Fallin today declared a state of emergency for all 77 Oklahoma counties due to severe storms, flooding, straight-line winds, tornadoes and snow impacting the state.
The massive storm system has delivered widespread rain and high winds across much of the state since Friday, with damage to power lines and power poles as well as trees, roofs and structures. In the Panhandle, more than 4 inches of snow has been reported in some areas.
Fallin's executive order allows state agencies to make emergency purchases related to disaster relief and preparedness. It is also the first step toward seeking federal aid should it be necessary.
A second executive order temporarily suspends the requirements for size and weights permits of oversized vehicles that are transporting materials and supplies used for storm relief.
Under the executive order, the state of emergency lasts for 30 days.
Rep. Ed Cannaday, District 15, Achieves a Legislative Trifecta
As the State of Oklahoma continues to struggle with an inability to create long-term strategies adequate to address the basic needs of its citizens, those employed within the state as educators, and others employed at essential core state agencies to include those non-elected employees who work in the Capitol building, face the potential for further budget cuts that spell another year of surviving on wages scaled for the previous decade.
As a former educator, Rep. Ed Cannaday is keenly aware of the anxiety and strain borne by his long-suffering colleagues struggling to maintain a semblance of routine and normalcy for their students; the very future of Oklahoma hanging in the balance.
The Legislation
HB1188, as introduced, relates to schools and unused sick leave. Language is added related to the Oklahoma School for the Blind or the Oklahoma School for the Deaf to allow for certain cumulative unused sick leave for an employed teacher in a school district to transfer to the Oklahoma School for the Blind or the Oklahoma School for the Deaf where the teacher is employed the next succeeding year.
Further, if a teacher is employed at the Oklahoma School for the Blind or the Oklahoma School for the Deaf after July 1, 2017, any unused sick leave up to 60 days that is accumulated at a school district prior to such date will be transferable.
HB1789 requires early childhood education, elementary education, and special education teachers to receive quality education in research-based instructional strategies for instruction, assessment, and intervention for literacy development of all students including advanced readers, English Language Learners, and students with learning disabilities such as dyslexia and requires certain prospective teachers to be provided specified education. Certain teacher candidates will study specified strategies to adapt for individual learners.
HB 1790 allows each school district in the state to offer a remediation course for high school students who score below a 19 on the American College Testing exam or below an equivalent score on the SAT exam. A teacher providing instruction in the course is not required to be certified in any subject matter that is tested on either exam.
None of the measures adds fiscal impact to contribute to the state's budget failure. They do provide substantive relief to bring about major opportunities for students and teachers, in areas where Oklahoma has ranked poorly, for too long.
Biggs Releases Statement on House Bills 1005 & 1127 Becoming Law
Gov. Mary Fallin has signed two pieces of legislation into law that aim to protect victims of sexual assault crimes.
House Bill 1005 elevates the crime of rape by instrumentation to rape in the first degree. State law currently views rape by instrumentation as rape in the second degree.
House Bill 1127 requires that a court must instruct the jury on the definition of "consent" in any criminal jury trial that involves "sexual assault." Although juries are currently requires to follow the legal definition of "consent," the understanding of the definition can change from jury member to jury member.
Both measures were authored by Rep. Scott Biggs, R-Chickasha. Rep. Biggs has released the following statement about the passage of this legislation:
Rep. Young thanks Death Penalty Review Commission
Oklahoma Legislative Black Caucus Chair-elect Rep. George Young today thanked a bipartisan commission for its work reviewing Oklahoma's death penalty procedures.
The Oklahoma Death Penalty Review Commission is comprised of 11 members from different political and career backgrounds. The group met for more than a year to evaluate every part of the state's death penalty proceedings, from arrest to lethal injection. Ultimately, the group unanimously recommended the state continue its moratorium on capital punishment until "significant reforms" are made.
Commissioners found the state's death penalty process has serious flaws and lacks resources and funding to be carried out effectively, accurately and humanely. In its 271-page report, the commission recommends 46 changes "to address systemic problems in key areas, including forensics, innocence protection, the execution process and the roles of the prosecution, defense counsel, jury and judiciary."
Included in the recommendations are several suggestions for who should be eligible for a death sentence. The report reveals that competency standards for defendants eligible for the death penalty have not been updated in more than a century. Further, commissioners found state statute "effectively allows for the execution of an inmate without a merits determination as to competence" as long as the warden does not question the defendant's competency.
Commissioners also recommend opening up the Oklahoma Pardon and Parole Board to include a more diverse panel. Recommendations also include creating recusal guidelines for the board as well as members participating in a "deliberative" discussion before voting on a clemency petition.
Commissioners suggest the Oklahoma Department of Corrections revise its protocol with clearer procedures for carrying out capital punishment to minimize the possibility of botched executions.
Executions have been on hold in the state since October 2015 when the attorney general's office found the wrong drug was used in the January 2015 lethal injection of Charles Warner.
Biggs Praises Passage of Critical Infrastructure Trespass Legislation
Gov. Mary Fallin signed legislation Wednesday to protect and preserve Oklahoma's most critical infrastructure.
House Bill 1123, authored by Rep. Scott Biggs, creates a new misdemeanor level and two new felony levels for trespassing. The new levels focus specifically on trespassing on property containing critical infrastructure. The misdemeanor level allows for a fine of $1,000 and up to six months in county jail for willfully trespassing onto property containing critical infrastructure.
The first felony level allows for a fine of no less than $10,000 and a prison sentence for up to 10 years for individuals that willfully trespass with the intention to damage, destroy, vandalize, deface, tamper with equipment, impede or inhibit operations of the facility. The final felony level is for a fine not less than $100,000 and a prison sentence for up to 10 years for successfully damaging, destroying, vandalizing, defacing or tampering with equipment in a critical infrastructure facility.
As a state that has many military bases, miles of oil pipelines and hundreds of gas wells, the threat of people looking to do harm to Oklahoma's critical infrastructure is real. The US Department of Homeland Security has gone as far to identify potential threat sources to specific Oklahoma assets.
Bush commends signing of Hidden Predator Act
State Rep. Carol Bush, R-Tulsa, issued the following statement after Gov. Mary Fallin this week signed into law House Bill 1468. The legislation, known as the "Hidden Predator Act," extends the statute of limitations for certain crimes against children from 12 years after the crime to until the victim's 45th birthday.
The civil counterpart to the bill, HB 1470, now heads to the governor's desk for her consideration.
"This measure will have significant impact on the way these horrific crimes are prosecuted. It allows victims more time to come to terms with the crime before deciding to press charges. I'm overwhelmed that the legislation received unanimous support in both the House and the Senate. We could not have achieved this monumental work without the help of Rep. Kevin McDugle and Sen. David Holt, and I thank Gov. Fallin for signing such an important bill. The Legislature has done right by the victims of these crimes, and I'm humbled to have played a part in extending the statute of limitations.
"I'm hopeful Fallin will also sign off on the civil part of the law, so we can properly protect so many Oklahomans."
The law takes effect Nov. 1, 2017.
Cleveland applauds signing of House Bill 1104
State Rep. Bobby Cleveland, R-Slaughterville, issued the following statement after Gov. Mary Fallin signed into law House Bill 1104. The legislation would allow elected officials of a county, who are in possession of a valid handgun license issued pursuant to the provisions of the Oklahoma Self Defense Act, when acting in the performance of their duties as an elected official to carry a concealed firearm within the courthouses of the county in which he or she is elected. The law takes effect Nov. 1, 2017.
"This measure moved swiftly through both the House and the Senate, and I'm proud to be the author of such an important piece of legislation. Safety is becoming an increasingly important issue in our nation, and this bill allows some of the most dedicated workers in our state to protect themselves during the course of their duty. I'm grateful the National Rifle Association endorsed the measure, and I'm confident county courthouses will be more secure because of it."
Governor signs bill modifying school eligibility for Oklahoma Tuition Equalization Grant
The Oklahoma Tuition Equalization Grant provides annual $2,000 stipends for Oklahoma students attending certain qualified private and independent, not-for-profit colleges and universities. The governor signed Senate Bill 600, by Sen. Jason Smalley and Rep. Katie Henke, this week to clarify that eligible institutions must have been granted not-for-profit status by the Internal Revenue Service and the U.S. Department of Education before July 1, 2012. Smalley said the change closes a loophole that was allowing certain institutions not intended for the grant to qualify for it.
Those institutions that are eligible for the grant are private or independent, not-for-profit colleges or universities that are based in Oklahoma, meet approved program and accreditation standards as determined by the State Regents, and are fully accredited by the Higher Learning Commission of the North Central Association on Colleges and Schools or a national accrediting body recognized by the U.S. Department of Education.
Subject to the availability of funds in the Oklahoma Tuition Equalization Grant Trust Fund, the State Regents can award a $2,000 grant per academic year or $1,000 per academic semester from the Oklahoma Tuition Equalization Grant Trust Fund. The program began in the 2003-2004 school year.
To be eligible for a grant, a student must be an Oklahoma resident, have enrolled as a full-time undergraduate student in an eligible college or university. Their parents' income from taxable and nontaxable sources must be less than $50,000 per year or the student's income, if independent and self-supporting as determined by the State Regents consistent with federal financial aid regulations. The student must pay more tuition than is required at a comparable public institution of higher education and pay no less than the regular tuition required of all students enrolled at their institution. They must maintain at least minimum standards of academic performance as required by the enrolling institution.
Eligible institutions include Bacone College, Family of Faith College, Mid-America Christian University, Oklahoma Baptist University, Oklahoma Christian University, Oklahoma City University, Oklahoma Wesleyan University, Oral Roberts University, Southern Nazarene University, Southwestern Christian University, St. Gregory's University, the University of Tulsa and Randall University.
Senate sends veterans cemetery bill to governor
The Senate gave unanimous approval Wednesday to legislation to create a state veteran's cemetery in Ardmore. Sen. Frank Simpson and Rep. Pat Ownbey are the authors of Senate Bill 543, which Simpson says will provide more options for veterans.
There are 53 acres of land available at the Ardmore Veterans Center and the cemetery would utilize 23 acres southwest of the center. The project is estimated to cost approximately $9 million. If approved, the Veterans Administration (VA) would cover all of the initial costs of construction as well as provide funds for equipment to operate the facility. The state would have to provide $1 million upfront but would be reimbursed by the U.S. Department of Veterans Affairs before July 1, 2017. The entire site would be required to meet VA standards for design and eligibility of veterans interred at the cemetery. The state would be responsible for the maintenance and upkeep of the cemetery.
The cemetery will offer 1,600 burial plots per acre for a total of 32,000 plots. It would take nearly 200 years for the cemetery to reach its full capacity.
Education Compact for Kids in State Care signed into law
Legislation was signed earlier this week to better help at-risk youth in Oklahoma public schools. Senate Bill 632, by Sen. Ron Sharp and Rep. Katie Henke, creates the "Education Compact for Kids in State Care" and ensures children placed in the care of the Oklahoma Office of Juvenile Affairs (OJA) or the Oklahoma Department of Human Services (OKDHS) do not have their education interrupted by their personal circumstances.
The bill streamlines the process for the timely transfer and/or enrollment of students who have been placed in state care, including the timely delivery of temporary and permanent student records in accordance with the foster care state plan developed by the State Department of Education (SDE) in collaboration with DHS as required by federal law. Additionally, it establishes the Education Compact for Students in State Care Advisory Committee that will be comprised of three members: one member each from SDE, OJA and DHS.
It specifies that a power of attorney issued pursuant to Title 10 of the Oklahoma Statutes and an out-of-home care placement agreement executed on a form provided by DHS are sufficient documents for the purposes of enrollment. It provides a timeline for students to obtain the necessary immunizations for school attendance and provides that upon enrollment the receiving school must verbally notify the parent, legal guardian, or legal custodian of a student about the immunization exemptions provided for in Title 70 of the Oklahoma Statutes.
Students who are placed in state care during the ninth through twelfth grades will be automatically enrolled in the core curriculum, but students who are enrolled in the Oklahoma Higher Learning Access Program (OHLAP) must be given the opportunity to complete the program's curriculum requirements.
SB 632 was requested by OJA. Executive Director Steve Buck said the bill promotes flexibility and cooperation between the educational system, parents/guardians and the study in order to achieve educational success for at-risk youth.
The new law will go into effect November 1, 2017.