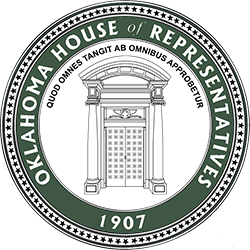 Senate Passes Smart on Crime Reform Bills
A slate of bills aimed at improving public safety and reducing Oklahoma's overcrowded prisons by reducing mandatory minimum sentences for some drug crimes, giving prosecutors more discretion in filing charges and expanding eligibility for drug courts passed out of the Senate this week. 
Four of the bills were authored by state Rep. Pam Peterson.
House Bill 2472 would give district attorneys discretion to file any crime as a misdemeanor, except those requiring a sentence of 85 percent or more upon conviction, after considering the nature of the offense, the age, background and criminal history of the defendant, the character and rehabilitative needs of the defendant and the best interests of justice.
House Bill 2479 would adjust mandatory minimum and maximum sentences for felony drug possession. Under current law, mandatory minimum and maximum sentences are 2-10 years for a first offense, 4-20 years for a second offense and 4-20 years for a third offense. This bill would adjust those sentences to 0-5 years for a first offense, 0-10 years for a second offense and 4-15 years for a third offense.
House Bill 2751 would increase the threshold from $500 to $1000 to be charged with a felony property crime.
House Bill 2753 would expand eligibility for drug courts and community sentencing to more defendants. Under current law, a defendant must have a previous felony conviction to be eligible for those alternative sentencing programs.
The Senate also passed two bills authored by House Speaker Jeff Hickman.
House Bill 3159 would mandate that any offender serving an "85 percent" sentence would be subject to a parole hearing upon completing 85 percent of their sentence. The bill stipulates that any offender who waives their constitutional right to a parole hearing would be eligible for only a maximum of five percent of earned credits against time served, ensuring the offender will serve at least 95 percent of his or her sentence.   
House Bill 3160 would create a financial earned credit of three percent against the balance of accumulated fees and fines for every 30 days served. The measure also provides that, upon release, an offender who makes 24 months of successful payments toward the balance of those fees and fines would be eligible to have their remaining balance waived.
Senate Approves Open Carry of Firearms Without Permit
Legislation that would allow Oklahomans to openly carry a firearm without a permit passed out of the Senate this week.
House Bill 3098, by state Rep. Jeff Coody, would allow any resident age 21 or older who is not a convicted felon to carry a firearm openly without  the requirement of obtaining a permit as currently required by the Oklahoma Self Defense Act.
A person would still be required to obtain a permit to carry a concealed firearm.
House Bill 3098 now returns to the House for consideration of Senate amendments.
Senate approves bill to improve prosecution of repeat DUIs
Legislation to aid prosecutors in keeping drunk drivers off the road was approved this week by the Oklahoma Senate.
House Bill 3146, by state Rep. Mike Sanders and state Sen. Greg Treat, creates the Impaired Driving Elimination Act (IDEA) and prohibits municipal prosecution of driving under the influence, unless a municipality has a municipal court of record. Any municipality with a population of 60,000 or more would have the option to create a court of record. Arresting municipalities would still receive a portion of the fines.
There are 354 municipal courts in Oklahoma who handle a large volume of DUI arrests, but that are not 'courts of record.' Oklahoma City and Tulsa are the only current municipal courts of record.
According to the National Highway Traffic Safety Administration, in 2010 Oklahoma ranked as the 46th worst state for impaired driving deaths and the 51st (including states and territories) for improvement over the previous 10-year period (NHTSA, 2012).
The legislation was approved unanimously and now proceeds to the governor's office to be signed into law.
Uninsured Motorists Beware; House Approves Use of Automated License Plate Readers
Legislation approved this week by the Oklahoma House of Representatives would authorize the use of automated license plate readers to flag uninsured motorists at a time when Oklahoma leads the nation in uninsured motorists on the road.
One in four vehicles in Oklahoma does not have insurance, state Rep. Ken Walker said. Senate Bill 359, by Sen. Corey Brooks and Walker, would authorize law enforcement to compare the license plate number with an Oklahoma Insurance Department list to determine if the owner of the plate has insurance.
Walker said as a privacy rights advocate, he tries to balance enforcement needs with privacy issues. The legislation does require that license plate photographs that are shown to be of insured vehicles must be destroyed. He is the House author of a second proposal, Senate Bill 1144, by Sen. Nathan Dahm, to create the Automatic License Plate Reader Privacy Act. It makes the misuse of data subject to legal action and provides that captured data is not a public record.
Measure to Help Mentally Ill Get Treatment Heads to Governor
A bill that would allow family members to petition courts to order those with mental illness to treatment programs is heading to the governor's desk to await her signature.
House Bill 1697, by state Rep. Lee Denney, would allow judges to order individuals to participate in an assisted outpatient treatment program if petitioned by immediate family members or guardians or those directly involved with the individual's treatment. The individual must be 18 years or older, under the care of the Department of Mental Health and Substance Abuse, and unlikely to survive safely in the community without supervision.
The "Labor Commissioner Mark Costello Act" was introduced after Costello was killed by his son Christian, who struggled with mental illness, last year.
Bill Allowing Collection of DNA for Felony Arrest Heads to Governor
A bill that would allow law enforcement to collect DNA from anyone arrested for a felony crime was passed by the Senate this week.
House Bill 2275, by state Rep. Lee Denney, would require every person 18 years of age or older who is arrested for a felony offense to submit to DNA testing. The sample would not to be analyzed and would be destroyed unless the arrest was made due to a valid felony arrest warrant, the person appeared before a judge who found probable cause for the arrest, or the person posted bond or was released prior to appearing before a judge and then failed to appear for a scheduled hearing.
The bill now goes to the governor for her consideration.
New law will expand property tax benefit to more disabled veterans
Legislation now signed into law will increase the access of 100-percent disabled veterans to a property tax exemption.
House Bill 2349, by state Rep. Dustin Roberts and state Sen. Frank Simpson, modifies the definition of gross household income to exclude veterans' disability compensation payments when determining eligibility for the additional homestead exemption.
The bill was endorsed by the World Hunger Action Organization and was their featured bill for the session. 
Based on 2014 U.S. Veteran Affairs data, there are 84,170 Oklahoma veterans receiving disability compensation. House staff estimates about 2,830 homesteads could qualify under the new law and, at $103 per exemption, the maximum fiscal impact would be $291,490 in local property tax revenues.
The law will take effect in November of 2016.
Measure Increasing Penalty for Stolen Valor Clears Committee
Those who fraudulently hold themselves out to be a veteran or active military member in order to obtain benefits would be subject to an increased fine under a bill that passed out of the Senate this week.
House Bill 2450, by state Rep. James Leewright, would increase the fine from $100 to $1000 for impersonating a member of the Armed Forces by wearing any decoration or medals awarded to members of the Armed Forces.
Leewright said the issue of stolen valor has increased dramatically since the 9/11 attacks and the military response that followed it, as Americans have openly honored active and veteran military personne.l
Most people who impersonate a military member want to share in that honor, while others just want to take advantage of military discounts and free services offered to veterans and active duty personnel, he said.
Bill to allow judges to consider veterans' PTSD during sentencing clears Senate
The Senate this week passed a bill that would allow judges to consider veteran's diagnosed post-traumatic stress disorder (PTSD) when sentencing them for crimes.
House Bill 2595, by state Rep. Richard Morrissette, would allow the court to consider post-traumatic stress disorder as a mitigating factor when making sentencing decisions concerning a veteran who has been diagnosed as suffering from post-traumatic stress disorder.
The U.S. Department of Veterans Affairs says that eleven percent of Afghanistan and Iraq veterans and 15 percent of Vietnam veterans have been diagnosed with PTSD but that many others go undiagnosed because they do not seek treatment.

Various studies have found that at least 30 percent of men and women who have spent time in war zones experience PTSD and an additional 20 to 25 percent have had partial PTSD at some point in their lives. 
The bill now heads to the governor's desk to await her signature.
 Critical Domestic Violence Measure Signed into Law
Legislation signed into law by the governor this week would broaden the definition of domestic violence, giving law enforcement and prosecutors a greater ability to go after abusers.
Current statute defines domestic violence as a pattern involving three or more incidents of abuse within a 12-month period. State Rep. Scott Biggs, the House author of Senate Bill 1491, said it removes the 12-month stipulation and reduces the required incidents of abuse to two or more.
State Reps. Mike Sanders and Cyndi Munson helped work to get the legislation approved in the House and said its passage was critical.