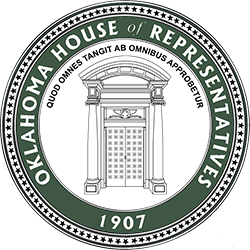 House Approves Rx Drug Bill
On Monday, prescription drug monitoring legislation was approved by the Oklahoma House of Representatives by a vote of 64-30.
House Bill 1948 would require doctors to check a database of patient prescriptions to ensure people aren't getting multiple prescriptions for addictive drugs from multiple doctors. The initial database check would be required when a doctor first writes a prescription for three classes of addictive drugs. Subsequent checks would need to be made at least once every 180 days after that.
A similar bill that failed last year would have required doctors to check the database each time they wrote a prescription for dangerous drugs. It did not have the support of the Oklahoma State Medical Association, which has come out in support of this year's bill.
House Bill 1948 would require database checks for opiate painkillers, anti-anxiety medications such as Xanax and Valium, and carisoprodol, a frequently abused muscle relaxer marketed as Soma.
Committee Votes to Provide Certainty for Energy Jobs
On Tuesday, the Oklahoma House Environmental Law Committee passed a measure that provides certainty for the energy industry and the tremendous number of Oklahomans employed in the oil and gas industry.
House Bill 2178 allows local governments to set safety standards, traffic restrictions, and ordinances concerning noise, odors, fencing and caution barriers around oil drilling sites, as well as setback requirements for well sites. The authority to approve specific drilling and excavation practices rests with the Oklahoma Corporation Commission.
Last year, a handful of people were able to ban fracking in Denton, Texas, by playing on public emotion and opened the door for patchwork drilling policies across the state. This has resulted in multiple lawsuits and a scramble among the energy industry and Texas state and local governments to find ways to nullify the harmful precedence this incident has created.
The legislation will now move to the House floor for consideration.
Jobs Measure Approved in Committee
On Tuesday, an important employment bill was approved by the Oklahoma House Business, Labor and Retirement Laws Committee.
House Bill 1001 would make the claims process more efficient and set a dependable new employer unemployment insurance tax rate.
One provision of the bill would allow employers to file documentation for misconduct immediately upon the termination of the employee. In doing this, the employer will be considered to have automatically protested the claim, if and when the former employee files for unemployment insurance benefits.
The legislation would also provide a reliable unemployment insurance tax rate for new businesses in their first two years in operation.
Many states have battled to keep their unemployment insurance trust funds solvent. Oklahoma was one of only 19 states that did not borrow money from the federal government to pay benefits.
The legislation was approved by a 10-0 vote and will now be available for a hearing on the House floor.
Measure to Provide More Oil and Gas Development Options Advanced
On Tuesday, a measure that would open more opportunities to use new and advanced drilling technology in Oklahoma passed a vote of the House Energy and Natural Resources Committee.
In an effort to ensure the energy industry continues to thrive in Oklahoma, House Bill 2177 allows oil and gas developers to obtain permission from the Oklahoma Corporation Commission to join units for drilling extended lateral-horizontal wells across multiple units outside of shale formations. This method is currently limited to the Marmaton Formation in Oklahoma and has proven effective in those shale plays since the adoption of the 2011 Shale Reservoir Development Act.
The legislation is the latest bill that seeks to keep energy production and jobs in Oklahoma. A law enacted last year secured competitive gross production tax incentives, making Oklahoma a more appealing drilling location in the region, made even more critical by recent declines in oil prices.
The Oklahoma Oil and Gas Association and the Coalition of Oklahoma Surface and Mineral Owners support the legislation.
HB 2177 will now move to the House floor for consideration.
Committee Approves Wiretap Expansion Bill
On Wednesday, a state legislative committee approved a bill that would expand wiretapping statutes to cover crimes of human trafficking for labor, commercial sex and the prostitution of children.
House Bill 1006 was approved by a vote of 8-0 in the House Criminal Justice and Corrections Committee. The legislation now proceeds to the full House where it will be available for a hearing.
Texting while Driving Measure Easily Passes Committee
On Wednesday, a bill aimed at curbing the dangerous trend of texting while driving easily passed out of a House committee.
House Bill 1965 strengthens language aimed at preventing texting while driving, marking a first offense fine at $250. Subsequent offenses would register a $500 fine.
The measure received a "do pass" mark with an 11-0 vote in the Criminal Justice and Corrections Committee.
After the hearing, Generation tXt held a press conference on the bill's passing. The group is a teen-led, grassroots, multi-faceted organization focused on educating young teens and families about how to practice safe driving by addressing the hazards of texting while driving.
The measure now heads to the House floor for further consideration.
Committee Votes to Give County Governments Greater Economic Development Role
On Wednesday, the House Rules Committee passed a measure that allows county governments to have greater power over decisions that impact their economic future.
House Joint Resolution 1024 calls for a constitutional amendment that would allow individual counties to create incentive packages to attract companies who may wish to set up manufacturing facilities within their bounds. If approved by a vote of the people, county commissioners will have the authority to offer new or expanded manufacturing facilities a one to five year ad valorem exemption of up to 100 percent. Such packages are currently created and reimbursed through the state.
If approved by the Legislature, HJR 1024 will be placed on the November 2016 ballot by the Secretary of State.
HJR 1024 will now go to the House floor for consideration.
Committee Approves Bill to Streamline Criminal Justice
On Wednesday, legislation advanced by a House committee would improve information sharing between state criminal justice agencies.
House Bill 1083 would create a shared infrastructure dubbed the "Criminal Justice Information Center for Excellence" under the supervision of the chief information officer in the Oklahoma Office of Management and Enterprise Services. The information technology infrastructure would be used by 14 agencies, including the Oklahoma State Bureau of Investigation, the Department of Public Safety, the Oklahoma Bureau of Narcotics and Dangerous Drugs, the District Attorney's Council, CLEET, the state attorney general, the ABLE Commission, the fire marshal and the Department of Corrections.
The chief information officer and commissioner of public safety would oversee the implementation of the law, if enacted.
The legislation was approved unanimously, 7-0, by the House Government Oversight and Accountability Committee. It will now proceed to the House floor and become available for consideration.
Committee Approves Bill Closing Loophole on Former Legislators Taking State Jobs
On Wednesday, the House Rules Committee passed a measure that tightens the ban on elected officials being employed by the state when they leave office.
If approved by a majority of Oklahoma voters, House Joint Resolution 1025 prohibits a former legislator from being employed by any state entity, regardless of the source of salary funding, until July 1 of the year following the end of their term in office. Currently, legislators can take a state job immediately as long as their salary doesn't come from dollars appropriated by the Legislature in the state budget. The HJR does make an exception for legislators who are selected by the Governor to serve in a cabinet position or those who have been elected to another office.
If approved by the Legislature, the Secretary of State will place HJR 1025 on the November 2015 ballot and will go to a vote of the people.
HJR 1025 now moves to the House floor for consideration.
Wine Shipment Measure Clears House Committee
On Wednesday, a measure that would allow wineries to ship wine in and out of state to certain customers cleared the first hurdle in the legislative process.
House Joint Resolution 1002 would allow the citizens of Oklahoma to vote on a constitutional amendment in November to allow wineries that have been licensed by the Alcoholic Beverage Law Enforcement (ABLE) Commission to sell and ship wine directly to consumers who have visited the winery in person and purchased the wine on the premises.
The resolution cleared the House Rules Committee by a vote of 6-4 and now awaits a hearing by the full House of Representatives.
Rural Opportunity Zone Bill Passes out of Committee
On Wednesday, a measure that would create Rural Opportunity Zones in counties across the state passed easily out of a House committee.
House Bill 1747 sailed out of the House Agriculture & Rural Development Committee by a 14-0 vote. The bill allows for the creation of 25 Rural Opportunity Zones across the state. For taxable years beginning in 2016, this legislation would allow for a five-year tax exemption for anyone who moves from out-of-state into a county projected to see a population loss between the effective date and 2075 per the 2012 Demographic State of the State Report – Oklahoma State and County Population Projections through 2075. HB 1747 now heads to the full House floor for further consideration.