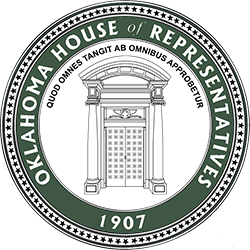 The following legislative action took place from April 27-30:
Bill to Allow Cannabidiol for Clinical Trial Headed to Governor
On Tuesday, April 28, the Oklahoma House of Representatives approved amendments to a bill to allow a medical pilot program using cannabidiol, a derivative linked to marijuana. The legislation will now head to the governor.
House Bill 2154 creates Katie and Cayman's Law and will legalize clinical trials using CBD, a non-intoxicating derivative of marijuana. Previous medical studies suggest this product can be used to effectively treat children and adults who suffer from epileptic seizures and help reduce the number and intensity of those seizures.
This bill would allow the Oklahoma Bureau of Narcotics and Dangerous Drugs Control to partner with the Commissioner of Health and OU Medical Center to oversee the clinical trials.
Katie and Cayman's Law would allow children who suffer from epileptic-associated seizures a chance for treatment to alleviate their symptoms.
HB 2154 provides for a pilot program with the option for the Legislature to extend the initiative after the two-year trial period expires in December 2017.
House Sends Texting Ban Measure to Governor
On Wednesday, April 29, the Oklahoma House of Representatives voted to send a texting and driving ban to the governor.
House Bill 1965 strengthens language aimed at preventing texting while driving. The measure, which received amendments in the state Senate requiring it to come back to the House, passed by a vote of 85-7.
The state Senate added two amendments, reducing a $150 offense to $100 as well as making texting while driving a primary offense.
According to the Governors Highway Safety Association, 44 states currently have a texting ban on drivers.
If signed into law by the governor, the texting while driving ban would go into effect Nov. 1.
House Votes to Send Right to Farm to Statewide Vote
On Wednesday, April 29, the Oklahoma House of Representatives voted to send a constitutional amendment to protect agricultural producers to a statewide vote.
House Joint Resolution 1012 allows Oklahomans to vote to amend the state Constitution to protect citizens' rights to engage in farming and agriculture in all cases unless prohibited because of a compelling state interest.
The amendment had already been approved in both chambers, but required the House to accept Senate changes.
Gas Seepage Measure Passes out of House
On Tuesday, April 28, the Oklahoma House of Representative approved the Joint Committee Report to House Bill 2234, which will help address the problem of seeping gas lines on housing and business properties.
House Bill 2234 allows the Oklahoma Corporation Commission to use up to 8 percent of the funds in the Plugging Fund, or approximately $130,000-150,000 per year to abate seeping natural gas occurrences.
The legislation takes effect July 1.
Tax Credit Reforms Signed into Law
On Monday, April 27, the governor signed into law two proposals that would develop a system for evaluating tax credits and economic incentives to determine their effectiveness.
Senate Bill 806 requires that any economic incentive include a measurable goal or goals when enacted.
House Bill 2182 will provide legislators with independent data on economic incentives, including estimated fiscal impacts and assessments of whether incentives are achieving their goals.
Child Welfare Reform Signed into Law
On Monday, April 27, the governor signed a child welfare reform bill into law.
House Bill 1078 expands the independent living program that transitions children in the system into their adult lives, updates requirements for foster parents and group homes to ensure the child is engaged in typical childhood activities such as sports and other social activities and revises protocols used to deal with runaways and child trafficking victims.
The specific changes to the independent living program include lowering the age from 16 to 14 and providing for a team concept. The team would include the state independent living worker, the child and an advisor that could be a coach, teacher or foster care parent.
The safety provisions of the legislation include the expansion of reporting requirements in the case of missing children in the system.