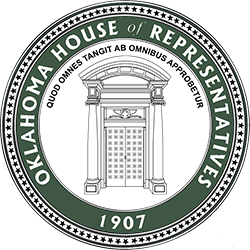 House Approves Child Welfare Reform
On Monday, the Oklahoma House of Representatives unanimously voted to improve the care of children in Oklahoma's child welfare system.
House Bill 1078 expands a program that transitions children in the system into their adult lives, updates requirements for foster parents and group homes to ensure the child is engaged in typical childhood activities and revises protocols used to deal with runaways and child trafficking victims.
Under the legislation, a team model would be used to transition children into adulthood. The measure would lower the age at which the transition program would begin from 16 to 14.
The legislation was approved by a vote of 91-0.
House Votes to Criminalize GPS Stalking
On Tuesday, a measure that would expand stalking statues to include the monitoring of an individual using a GPS or similar device was approved by the Oklahoma House of Representatives.
House Bill 1516 proposes to add to the definition of stalking the use of a GPS or other monitoring device. The bill excludes parents, who have the right to monitor the location of their children, and law enforcement, who are allowed to do so if they have a warrant.
Current stalking law provides for a misdemeanor on the first offense with a penalty of up to one year in a county jail, a fine of up to $1,000, or both. Subsequent offenses result in a felony charge with additional prison time.
The legislation was approved by a vote of 83-2.
House Votes for Death Penalty Change
On Tuesday, the Oklahoma House of Representatives voted to change the way in which Oklahoma conducts its death penalty executions.
House Bill 1879 moves to replace the current multi-drug lethal injection format with a new system involving execution of death row inmates via nitrogen hypoxia.
When oxygen is present, nitrogen is a normal and harmless gas found in 78 percent of the Earth's atmosphere. When oxygen is removed, nitrogen is deadly to humans.
In a study requested by the bill's author and conducted by professors at East Central University, findings on the potential execution process concluded: that execution via nitrogen hypoxia is a humane way to carry out a death sentence; the nitrogen inhalation process would not require assistance of licensed medical professionals; nitrogen is readily available for purchase; and death sentences carried out by nitrogen inhalation wouldn't depend upon the cooperation of the offender being executed.
The legislation was approved by a vote of 85-10.
House Approves Online Course for Gun Carry License
On Tuesday, the Oklahoma House of Representatives approved a proposal to allow Oklahomans who want to carry a firearm to take a required gun safety course online. House Bill 1391 was approved by a vote of 88-7.
House Approves Constitutional Convention Resolution
On Wednesday, a resolution adopted by the Oklahoma House of Representatives would allow voters to decide whether or not to call a state constitutional convention. The Oklahoma Constitution requires voters to decide on a convention at least once every 20 years. The last resolution of a constitutional convention was made in 1970. A referendum to eliminate the requirement to hold constitutional conventions was defeated in 1994. House Joint Resolution 1020 was approved by a vote of 83-8.
Measure Aimed at Making A-F School Grading System More Accurate Clears House
On Wednesday, a measure that would make the A-F school grading system more accurate passed unanimously out of the Oklahoma House of Representatives.
House Bill 1690 would amend the Oklahoma School Testing Program by requiring the academic performance of students who are still taking coursework while receiving rehabilitation or medical care be reported separately from the rest of the student population. Those students' performance would not be included when determining the school's grade.
The bill defines the population to be reported separately as "students who are patients receiving long-term or short-term rehabilitation services or care in a pediatric rehabilitation hospital or medical care setting and are being provided educational services by a school district pursuant to an agreement between the hospital or medical care facility."
Under the current system, every school receives a grade of A-F except those that have been exempted by statute. This measure would also exempt hospitals or medical care facilities that are considered a "school site" under the statute from the grading system.
House Bill 1690 passed out of the House by a vote of 93-0.
House Votes to Increase Penalty for Assault on Off-duty Law Enforcement Officer
On Thursday, legislation approved by the Oklahoma House of Representatives would increase the penalty for assaulting an off-duty law enforcement officer. Currently, the assailant would face a felony charge for an assault on a uniformed officer, but only a misdemeanor if off-duty. House Bill 1318 was approved by a vote of 83-2.